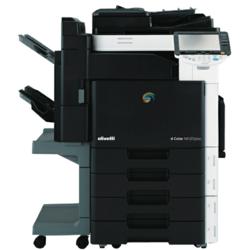 If you decide to buy second hand equipment check the original date of manufacture, I wouldn't recommend buying any over four years old.
Bolton, Lancashire (PRWEB) June 21, 2013
Copy Print Services are based in Bolton, Lancashire and have been trading since 2006 they now employ twelve full-time staff.
Most of their clients are North West based with the majority located in Bolton. They also supply Olivetti toners and replacement parts (via their website) on a national basis.
"We often get asked 'what machine is best for me?' when receiving new enquiries. There seems to be a lot of confusion about what to choose" said John, M.D. of Manchester photocopier dealers, Copy Print Services.
"So for that reason I thought I would publish my tips on what to consider before investing in digital printing machinery" added Mr Hynes.
John's top ten tips for buying, renting or leasing photocopiers are:
1. Buy, lease or rent?
Most companies will offer the following options:
Buying
Should you buy brand new, second hand or refurbished?
"If you decide to buy second hand equipment check the original date of manufacture, I wouldn't recommend buying any over four years old" recommends John.
"All manufacturers have to supply parts for at least seven years, at Copy Print we don't supply machines which are over three years old" he added.
Buying outright suits business's who have cash in the bank and have a 'stable copy/ print out put' in other words they know what volume they will need to print for the next five to seven years.
Leasing
Photocopier leasing is another alternative to renting and in most cases is more cost effective if leasing the machine over a three to five year period.
Benefits include a small cash outlay (as they are usually 100% financed); this conserves your business' working capital. Photocopier leasing can also mean tax benefits for your company.
Leasing is flexible as you can usually upgrade or downgrade during the term of the lease.
Renting
Photocopier rental agreements are often more flexible than photocopier lease arrangements and are usually available on daily, weekly, monthly or annual terms.
If you are considering renting check that your supplier doesn't tie you in to a fixed time period.
Generally, renting a machine is more expensive than leasing because there is no long term commitment.
2. Think long term
Consider the long term cost and not the initial investment when making your choice.
Running costs will vary dependent on the type of machine you use, as well as toner costs there are other consumable items, such as drums, fusers and transfer belts all these items should have a 'page yield' (the expected life of the item).
Be careful when checking the toner page yields as these are usually based on a 5% page coverage (an average mono letter will be around 8% and a full colour photo could be as much as 150% (there are 4 colours)).
If your machine is brand new then it should last for around five to seven years. Machines which are used to print large volumes on a daily basis tend not to last as long.
Look at how much it is likely to cost or save you over a five year period before making your decision.
As a 'rule of thumb' the more expensive the hardware the less your running costs are likely to be.
3. How often will you use it?
This will determine which model to choose. Be sure not to pick a machine which has features you aren't likely to need.
"For example someone who only prints about 10 copies a month will be fine with an entry level ink jet printer. A business that prints 5,000 colour copies a month would require a higher end laser printer/copier" said John.
4. What are you going to use it for?
Will you just be printing in mono or do you require colour?
It's worth considering colour if you already buy leaflets for your business as you can always print your own.
Check if you want to print double sided (duplex) as many multi-function machines are able to do this.
Consider if A3 printing will be required and if you would like to use the machinery to scan or send faxes.
5. Repairs and Maintenance
Most companies will offer some kind of maintenance package. This is especially important if you are buying second hand or refurbished machines.
"I would recommend a maintenance contract with any machine – especially for heavy users" advises John.
Choose a local company (if possible) or one with engineers who are often in the area.
Check what their response time is likely to be and make sure you get this in writing.
Ask if their engineers are trained to repair and service the particular model you are interested in.
It's also worth checking that their engineers carry spare parts and that these do not have to be ordered.
"You have to work out how much would photocopier downtime cost your company before considering a maintenance package" advises John.
'Click charges' is the term for cost per print. Many photocopier dealers will offer a maintenance package and include replacement toners and parts if you pay this fee.
6. Consumables and Paper
What will the toners cost?
If you are taking out a maintenance contract these may well be included.
Also consider the type of paper you need and source a supplier who can supply this cheaply and quickly. Many machine manufacturers stipulate a certain brand or type of paper should be used otherwise the warranty is rendered invalid.
Ask your supplier how many sheets will the printer hold and does it have different cassettes for different sizes of paper.
7. Training
Does the company you are ordering from offer training?
Some multi-function printers can be complicated to operate so asking your supplier if they offer training and support is vital.
8. Space and Storage
Your machine will need a dry and level area with plenty of storage space around it to store replacement toners and paper.
9. Printing Speed
Machines can vary greatly in printing speed, ask how many pages a minute the machine will print and consider if that will be enough to suit you.
10. Finishing
Will you be printing your own booklets that may need stapling?
Doing this by hand can be time consuming and lots of machines have additions which can do this job for you. Some can sort your booklet pages in to the correct order too.
Copy Print specialises in Olivetti photocopiers and Olivetti toners and recently won the 'Best for Color' award by Olivetti
To become 'Best for Color', selected Olivetti dealers must meet a stringent set of requirements and demonstrate that their engineers have passed technical service training courses, run by Olivetti, for the entire range of Olivetti products.
"I hope my tips help make this important business decision a little easier" finished John.
Press release as part of an SEO campaign by Bolton Search Engine Optimisation Specialists Vizcom.