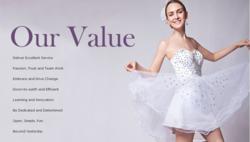 (PRWEB) June 21, 2013
MMdresses.com, an innovative company of women's dresses, has recently released its new collection of maternity prom dresses. Today, the company announced a site-wide prom dress promotion. Now, all customers can enjoy the grand discounts, up to 60% off, offered by Mdresses.com before July 10, 2013.
MMdresses.com's prom outfits come in many different designs, like tartan, stripes, floral patterns, polka dots, and solid colors. The customer-oriented dresses and services have helped MMdresses to become a leading brand among many dress companies. Its options are really incredibly affordable, and do well in comparison with their more expensive counterparts. Now, the business is striving to help ladies to save thousands on prom attire.
"We are really happy to offer the discount prom dresses to ladies worldwide, and make our dresses available to more clients. Please visit our website now! Many ladies are finding incredible deals on their gowns at MMdresses.com," says, the CEO. "If you're searching for trendy prom dresses from top designers, we have an amazing selection of 2013 dresses for you. Start your shopping now and find your perfect dresses here please. Moreover, our new collection of Quinceanera dresses 2014 will be available soon. Please keep an eye on us, because many exciting things happen here every day!"
MMdresses.com has been in the industry for many years, and it always gives ladies tips and solutions on finding budget friendly wedding dresses and other special-occasion dresses. MMdresses.com has an elite team with much experience and unlimited creativity in dressmaking.
About MMdresses.com
MMdresses.com is an award winning wedding dress manufacturer and retailer, offering a wide range of wedding dresses, cocktail dresses, bridesmaid dresses, evening dresses, and more. At Mmdresses, ladies will receive professional help directly from dress experts. The company aims to deliver ladies worldwide all kinds of dresses at prices as low as possible.
More information can be found at http://www.mmdresses.com/.