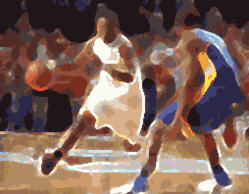 as more UK bank accounts become paid propositions the door is certainly open for celebrity back prepaid cards to take off here
(PRWEB UK) 23 June 2013
According a recent article in the New York Post (19th June 2013); Basketball legend, Earvin "Magic" Johnson is the latest celebrity associated with prepaid debit cards to be sued in the USA (University National Bank recently sued reality TV heroes, the Kardashians, for $75 million for breach of contract after they terminated the endorsement their prepaid debit card after less than a month amid stinging criticism of its high fees).
According to the New York Post; Florida-based Celebrity Cards International filed a claim on Tuesday 18th June '13. The suits claims thatn NBA Hall of Fame star, Magic Johnson broke an agreement to market and sell a "Magic Cash Card" with Celebrity Cards International, instead striking a similar deal with one of their prepaid competitors, OneWest Bank.
According the Robert Hantman, lawyer for Celebrity Cards International :
"The actions of defendants are so shocking and appalling . . . and so out of character for Magic Johnson that it is hard to believe, but justice will prevail…"
Johnson is yet to respond to press requests for comment at this time.
A spokeperson for compareandsave.com commented :
"The increasing frequency of the cases demonstrates that Prepaid really is big-business in the US, and celebs are commonly used endorse or act as 'brand ambassadors' for these products. Obviously many people know about the Kardashian deal, but a number of other celebrities and brands are also involved – Justin Bieber, hip-hop entrepreneur Russell Simmons, Elvis Presley and Disney to name but a few."
"Of course, if it happens on one side of the 'pond' it normally takes off on the other side too, and as more UK bank accounts become paid propositions the door is certainly open for celebrity back prepaid cards to take off here."
_______________
compareandsave.com is one of the UK's leading current account comparison websites. Based in Colchester, Essex, compareandsave.com has been helping UK consumers get a better deal on credit cards, savings accounts, personal loans and more for over five years.