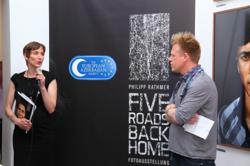 Their faces show the pain and suffering, but also capture their hope of returning home one day.
Paris, France (PRWEB UK) 21 June 2013
To commemorate UN World Refugee Day, observed on 20 June, the French office of The European Azerbaijan Society (TEAS) opened Philipp Rathmer's photography exhibition, entitled 'Five Roads Back Home', in the presence of more than 200 guests at La Galerie Joseph in Paris. The exhibition highlights the ongoing plight of the 875,000 Azerbaijani Internally Displaced Persons (IDPs) and refugees. All 50 photographs were taken in Azerbaijan during the same week of July 2012, in the IDP camps of Takhtakorpu and Gunzali, near the Armenian border, and Darnagul and Gizilgum, located north of Baku.
The conflict between Armenia and Azerbaijan began in the late 1980s, leading hundreds of thousands of Azerbaijanis to leave their homeland. Azerbaijan currently has a population of around 875,000 IDPs and refugees, accounting for approximately 10 per cent of its population. Azerbaijan now has one of the highest IDP populations in the world. Despite four UN Security Council Resolutions being passed nearly 20 years ago against the occupation of their homeland by Armenian armed forces, these people continue to live in camps across the country.
In her opening speech, Eliza Pieter, Head, TEAS France, outlined the ongoing suffering of these victims of the conflict. She said: "Quite often we tend to think of the IDPs and refugees from wars and armed conflicts in terms of humanitarian need, but once the time of urgency is over, these people are abandoned to their fate. The international community simply forgets and moves on to focus its attention elsewhere, on new conflicts and new emergencies that occur across the world."
In conclusion, she expressed her wish to see these people going back home some day, saying: "We hope that the IDPs and refugees from Azerbaijan will not be obliged to live away from home for the rest of their lives, far from their homeland and houses, and that international institutions will help Armenians and Azerbaijanis live alongside each other again."
Eliza Pieter then handed over to Philipp Rathmer, who shared his experience regarding this photographic project and explained its purpose: "I photographed the people on a black background in order to highlight their faces, and only their faces, which all tell a story. Their faces show the pain and suffering, but also capture their hope of returning home one day, using one of the five roads that lead to the occupied districts – one of the Five Roads Back Home."
Following its run in Paris, the exhibition, which was first shown in Berlin, will travel during 2013 to Brussels, Istanbul and Baku.
21–23 June 2013
Five Roads Back Home
La Galerie Joseph, 7, rue Froissart, 75003 Paris
Métro: Saint-Sébastien – Froissart, Ligne 8
Opening times: 10.00–18.00hrs. Admission free.