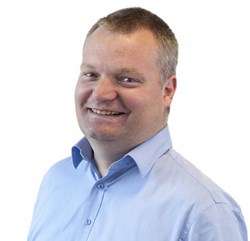 While some technology start-ups are destined to succeed, others have fatal flaws from the off, and are destined for an inevitable, inglorious demise
Manchester (PRWEB UK) 21 June 2013
Many new technology companies begin life with ticking time bombs attached that will eventually cause them to fold, new Find the Edge expert, John Thompson has said.
In his first post for the business website, Thompson discusses four of the most damaging errors new CEOs make, and explains ways to avoid them.
He said: "While some technology start-ups are destined to succeed, others have fatal flaws from the off, and are destined for an inevitable, inglorious demise.
"Start-ups that have compelling propositions, modest cost bases, energetic, collaborative teams and effective sales and marketing units are not guaranteed to work, but they will have a better chance of becoming that most incredible place to work: a company exploding with growth."
The issues he discusses include problems between cofounders, a poor sales strategy, and a lack of control over spiralling costs.
Thompson also talks about the need to listen to customers, and be willing to alter the proposition if it proves to be off the mark.
He said: "You need to get your products into customers' hands early and listen to them carefully.
"For example, my current company went to market with product messaging about how it helped marketers improve website conversion rates. The software does do this, but listening to customers, they told us that the most compelling benefit was that it enabled them to remove bugs from their ecommerce sites twenty times quicker.
"We now lead with this benefit, and have shifted our sales focus to the IT stakeholders who care about this issue."
The article can be read in full here: http://www.findtheedge.co.uk/startup/strategy/four-reasons-why-tech-start-ups-implode.
John Thompson is the CEO of User Replay, and has worked on the boards of numerous technology start-ups. More about him can be read here: http://www.findtheedge.co.uk/expert-panelist/john-thompson.
Kenny Goodman, founder of Find the Edge, said: "New technology start-ups make these crucial errors on a consistent basis, and in many cases they prove fatal.
"John has a great deal of experience in this area, and offers some fantastic advice in this article to anyone looking to make a success of their young company."
Find the Edge is a business website where expert panellists upload content with the aim of sharing their experience and knowledge with other members of the business community.