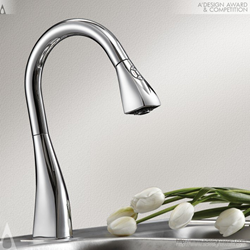 Como, Italy (PRWEB) June 25, 2013
A' Design Award and Competitions are proud to see that the project Electra by Valfsel Design Team for E.C.A. - Valfsel Armatur Sanayi A.S. has been honored with the prestigious Platinum A' Design Award in Building Materials, Construction Components, Structures & Systems Design Category and chosen as a winner by the transnational judging committee of the A' Design Award & Competition amidst numerous participants.
Regarding Electra
Electra is an electronic hand shower used for the kitchen interior. Created with an elegant style and smart appearance it is decisive to be unique for modern kitchens. The main characteristic is the ability of pulling down the digital sink mixer that provides the users with freedom of movement in the sink. Electra's front area is an incorporated electronic pad that gives the full access to all the functions with a simple touch, either when it is in fitted position or being operated manually.
To learn more about this design, please visit: http://www.adesignaward.com/design.php?ID=28275.
Project Members for Electra
Electra was designed by Seda Kilimcigoldelioglu and Ismail Cetinkaya
The Platinum A' Design Award
The Platinum A' Design Award is a prestigious award given to top 1% percentile designs that has exhibited an exemplary level of quality in design. The designs are judged by a panel of three different jury which is composed of Academic, Professional and Focus Group Members. The designs are evaluated with score normalization to remove any biases and are voted on aspects such as functionality, ergonomics, engineering, presentation, innovation, usability, fun details, technology, and any other specific points that could be considered, each of these points are further weighted for different jury groups.
About A' Design Award and Competitions
A' Design Award and Competition is aim to highlight the excellent qualifications of best designs, design concepts and design oriented products. A' Design Award and Competition is organized and awarded annually and internationally in multiple categories to reach a wide, design-oriented audience. To learn more visit: http://www.whatisadesignaward.com