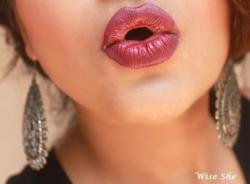 The site's first priority is to its community of members, who share the same priority.
INDIA (PRWEB) June 21, 2013
WiseShe, the leading makeup and beauty blog in India, recently reached two important milestones, posting its seven thousandth article and achieving 60,000 Facebook fans. The site's success is a reflection of the popularity of the Internet with younger generations in India and throughout the world. Cyberspace becomes a natural outlet for these consumers to search for information about beauty and makeup, as well as accessories, which are often showcased on WiseShe's blog.
The site has even made an impression on Cosmopolitan magazine editors, who have featured the site several times on its pages. Makeup is a new frontier for the Indian cyberscape, with earlier blogs for women centering on issues like cooking and health.
Previously, Indian women learned about makeup and other beauty products through advertisements, randomly trying on makeup products. The content on WiseShe is written for women by women, with writers becoming a part of the community by sharing valuable beauty tips.
"My journey with WiseShe started as a reader and moved to become an author and now I'm part of a lovely sisterhood," says reader and author Avanti. "In this world of beauty, makeup, shopping, fashion, trends and sales, I know I am not alone. I learn and share my passion, every single day. It has become me. I am WiseShe."
WiseShe offers hundreds of product reviews each month on products like MAC, Revlon, and NYX, providing information on new products and tips and tricks on makeup application. Through equipping women with information on products and application technique, WiseShe empowers women to make the right decisions. With the addition of new accessories to its featured product reviews, WiseShe is a full-service online beauty stop for consumers.
WiseShe, India's top makeup product reviews blog, has achieved millions of page views and thousands of makeup and beauty queries since its January 2010 launch. Founded and owned by Anamika Sureka Malik, WiseShe has more than 100 writers, each of whom write reviews and tips for using both department store and drugstore makeup brands. Each of the site's writers has a passion for makeup, providing an unbiased review of each beauty product to help others.
The site has made a connection with so many consumers, many popular cosmetic manufacturers now seek out WiseShe as a consultant. WiseShe has also formed partnerships with e-commerce sites, broadening its impact on the community.
Manufacturers also regularly send products to WiseShe for review, but the site always maintains its objectivity. The site's first priority is to its community of members, who share the same priority. Each writer provides information about his or her personal experience with product,
"Writing for WiseShe is not just a hobby but has now become a way of expressing myself," says author and moderator Zara. "I love being a part of this family and wish that WiseShe rises further and attains great heights."
To read WiseShe's great makeup reviews and beauty tips, visit http://www.wiseshe.com/. The site is always looking for great writers and reviewers. Information about becoming part of WiseShe's family of writers is available at http://www.wiseshe.com/2011/12/write-for-wise-she-join-us-now.html.