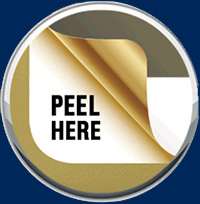 This opaque material allows us to help brands overcome one of the biggest aesthetic challenges they face when using peel and read labels.
Royston, Hertfordshire (PRWEB UK) 24 June 2013
Royston Labels has added a new opaque polypropylene (PP) film to its range of peel and read label materials. The new PP possesses increased opacity compared to other commonly used labelling films, and with it Royston Labels can offer a peel and read label which totally conceals any text printed beneath the outer-surface layer.
"This opaque material is a great complement to our material stock - allows us to help brands overcome one of the biggest aesthetic challenges they face when using peel and read labels," stated Paul Clayton, Royston Labels Managing Director. "This is a tangible example of our continuing drive to improve our offering."
Peel and read labels are a much used labelling solution for brands that need to include detailed product and promotional information on their packaging, without compromising on design. The labels are comprised from a decorative top layer which can be peeled away from the base to reveal information printed on the inside. They are usually fabricated from PP films which deliver a resilient medium, well suited to both the complex printing process and increased end-user handling to which peel and read labels are subjected.
A problem often encountered by brands using traditional peel and reads is that text printed inside the label shows through to the decorative cover. This can have a negative impact on the packaging's aesthetics, and can force brands into selecting a light colour to print their product information. Printing light-coloured text is a risk, especially in the pharmaceutical industry where crucial medicine instructions can become more difficult to read. Royston Labels understands that packaging design, branding and user compliance are of paramount importance to its customers.
The newly developed opaque material can completely conceal print underneath and on its reverse. It is suitable for booklet construction and can be decorated in exactly the same way as other PP films. This breakthrough technology can also be used as a single layer label to mask unwanted visuals below.
Although more expensive than conventional PP films, the new material commercially fits many applications, particularly within the Pharmaceutical, OTC Healthcare and Cosmetics industries.
Notes for editors:
Founded in 1984, Royston Labels is a multi-award winning manufacturer, specialising in top quality, fit for purpose labels that are certified to ISO 9001 and PS 9000 standard. Royston Labels are passionate about labels, understand the power of labels to add brand value and communicate product identity, and are dedicated to ensuring excellence in service.
http://www.roystonlabels.co.uk
For more Information please contact:
Stephanie Rogers, Marketing Manager