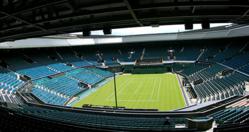 New York City, NY (PRWEB) June 24, 2013
The article "6 Wimbledon Facts To Impress Your Tennis-loving Friends" published recently by FinancesOnline.com is prepared for readers who would like to learn some interesting facts about Wimbledon that could be used in a conversation with a friend.
The article does not try to increase the readers' knowledge of the game, but rather shows how to sidestep the fact that one knows little about tennis with some intelligent-sounding money facts.
For one, the article points out that, sans endorsements, Rafael Nadal and Roger Federer are two of the poorest big sports players around. The article explains why, as it also quips that losing in tennis tours may literally mean losing money, too, for the low-ranked players.
The article tackles class inequality, pay disparity and the Britishness of the whole event, but not in the serious aplomb that you might expect. It is a satirical jab at the sport that is an almost colonial heritage, yet one people have come to embrace as one of the world's major sports.
Some of the highlights in the article are:

Why Wimbledon is different from the US, French and Australian Open
Playing Wimbledon like bonds
The bloody strawberry that no British man has won the singles since 1938
And the fact that football star, Aaron Rogers, can throw to the sea half of his earnings and still come up as richer than Federer and Nadal, their earnings combined!
It's Wimbledon at fever pitch and the grass is all set. The strawberries, too.
More details about Wimbledon's "little" facts can be gleaned in the "6 Wimbledon Facts To Impress Your Tennis-loving Friends" article at FinancesOnline.com.