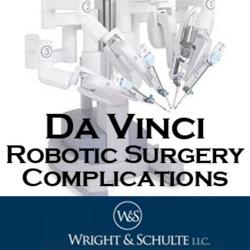 If you have suffered from Da Vinci Robotic Surgery Complications contact the Da Vinci Robot Lawyers at Wright & Schulte LLC today for a FREE case evaluation. Visit www.yourlegalhelp.com or call 1-888-365-2606
Columbus, OH (PRWEB) June 23, 2013
The Da Vinci robot lawyers at Wright & Schulte LLC are disturbed by a recent report that aired on the NBC news program, Rock Center, which told the stories of robotic surgery patients who suffered serious Da Vinci Robotic Surgery complications in procedures with the Da Vinci Surgical System. Among other things, the report raised questions about the added costs associated with Da Vinci robot procedures, especially given the fact that it hasn't been shown to reduce Da Vinci Robot complications when compared to traditional procedures. The report comes just months after Intuitive Surgical, the manufacturer of the da Vinci Surgical System, disclosed in a regulatory filing that it has been named a defendant in 26 Da Vinci robotic surgery lawsuits alleging personal injuries and/or death. (Estate of Fred E. Taylor v. Intuitive Surgical Inc., 09-2-03136-5, Superior Court, State of Washington, Kitsap County (Port Orchard))
[rockcenter.nbcnews.com/_news/2013/06/14/189589
67-robotic-surgery-is-high-tech-tour-de-force-but-is-it-
safe?lite, Rock Center, June 14, 2013]
[Intuitive Surgical SEC Filing, April 19, 2013; sec.gov/
Archives/edgar/data/1035267/000119312513162385/
d508282d10q.htm]
Wright & Schulte LLC is now offering free personal injury lawsuit consultations to victims of alleged Da Vinci robotic surgery complications, including those who suffered:

Tears and/or burns of the intestines
Punctured blood vessels
Punctured and/or cut ureters
Severe bowel injuries
Vaginal cuff dehiscence
Excessive bleeding
Surgical burns
Sepsis
Peritonitis
Death
For more information on filing a Da Vinci surgical robot lawsuit, or to arrange for a free legal consultation, please visit yourlegalhelp.com.
According to the Rock Center report, sales of the Da Vinci Surgical System are up 41% in the last decade, and the robot was used in 400,000 procedures last year, including hysterectomies, prostate surgeries and heart surgeries. Advocates for robotic surgery claim such procedures result in minimal bleeding, minimal scars and faster recovery times. But in March, the American Congress of Obstetricians and Gynecologists released a statement advising doctors not to consider robotic surgery for hysterectomy a first choice for most women, advising doctors to separate "the marketing hype from the reality when considering the best surgical approach" the procedure.
[ACOG, March 14, 2013; acog.org/About_ACOG/News_Room/News_Releases/2013/Statement_on_Robotic_Surgery]
The U.S. Food & Drug Administration has received 200 reports of Da Vinci robot complications, including burns, cuts, infections, and 89 deaths, since 2007, Rock Center said. The agency is now looking into the reports to determine if the robot itself is causing the injuries. One of the patients detailed in the Rock Center broadcast, a 37-year-old hysterectomy patient, described how just five weeks after her operation, her intestines fell out of her vagina while she was using the bathroom. While the frequency of this gruesome complication is unknown, published reports of this happening after robotic surgery are increasing, according to Rock Center.
In May, a Washington State jury returned a verdict favoring Intuitive Surgical in the first trial of a Da Vinci robot lawsuit, which was filed by the family of a man who had died after suffering serious complications during a robot-assisted prostate removal surgery. However, according to a Reuters report from May 28th, an attorney for the plaintiff said thousands of cases could be coming, and added that many will result in wins for plaintiffs.
[Reuters, May 28, 2013; newsandinsight.thomsonreuters.com/Legal/News/2013/05_-_May/Intuitive_Surgical_wins_case_over_robotic_surgery_system/, Reuters May 28, 2013]
About Wright & Schulte LLC
Wright & Schulte LLC, an experienced personal injury firm, is dedicated to the belief that America's legal system should work for the people. Every day, the attorneys of Wright Schulte LLC stand up for the rights of people who have been injured or wronged, and fight tirelessly to ensure that even the world's most powerful corporations take responsibility for their actions. If you're looking for a law firm that will guarantee the aggressive and personal representation you deserve, please do not hesitate to contact Wright & Schulte LLC today. Free Da Vinci robotic surgery complications lawsuit case evaluations are available through yourlegalhelp.com, or call 1-800-399-0795.
Contact:
Wright Schulte LLC
812 East National Road
Vandalia, Ohio 45377
1-800-399-0795