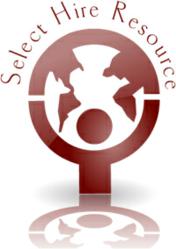 I'm very familiar and comfortable with contract staffing. This is just the first time I've outsourced it to a back-office.
Philadelphia, PA (PRWEB) June 21, 2013
Joell Iskander is putting 17 years of staffing industry experience to work by launching contract staffing services at her own recruiting firm, Select Hire Resource.
Iskander established Select Hire Resource in 2011. The executive search firm provides staffing, recruiting, and consulting services exclusively in the fields of Accounting and Finance, Audit and Compliance, Technology, HR and Executive Support, Architectural Design and Support, Engineering Design and support and Project Management. Located in the Greater Philadelphia area, Select Hire Resource conducts searches nationally and globally.
"We are small enough to be choosy," said Iskander. "We are very particular about the types of positions we take on so we can put all of our focus on those positions. It's not a scenario where we will take whatever we can get and see if we can fill it."
Up until now, Select Hire Resource has been focused mainly on direct hire placements. But with Iskander's extensive expertise in staffing, the intention was always to add contract staffing services. Her experience includes serving as a Division Director for Robert Half International and a Regional Director for Employment Plus.
Iskander said that working with contract staffing back-office provider Top Echelon Contracting (TEC) helped expedite the addition of contract staffing to the firm's service offerings. TEC handled all the required setup and, as the legal employer for Iskander's contractors, is responsible for all of the financial, administrative, and legal tasks associated with her contract placements. These tasks include creating legal contracts with the clients and contractors, payroll processing and funding, tax withholdings and filings, unemployment, Workers' Compensation, background checks, employee paperwork and issues, benefits, and more.
"I'm very familiar and comfortable with contract staffing," Iskander said. "This is just the first time I've outsourced it to a back-office."
As more clients move toward project work, Iskander believes demand for contract staffing will continue to grow. Utilizing contractors allows her clients to quickly increase staff to handle a project and then just as quickly reduce staff when the need passes. It also helps them reduce their employment costs and liability.
"I think project-related work is something we are going to see a lot of companies go to, especially with the changes in the benefits scenario due to the healthcare reform," said Iskander, referring to the provision in the law that will require employers with 50 or more employees to provide health insurance. "When clients utilize contractors, benefits and other employer issues are no longer their problem. If they put someone on as a contractor, it's something the recruiting firm or back-office handles."
To find out which contractors are available through Select Hire Resource, you can request updates by completing the firm's Contact Us form.