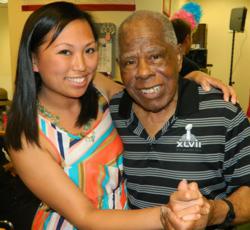 Baltimore, MD (PRWEB) June 21, 2013
Nearly 60 adults and seniors with disabilities celebrated the season by holding their version of a "Senior Prom" at The Easter Seals Harry & Jeanette Weinberg Adult Day Services Center on June 20.
Frances Ames and Jim Ivey were named the Prom's Queen and King, respectively before the soulful sounds of musical duo Chyp and Andrea had everyone on the dance floor throughout the afternoon.
Easter Seals Adult Day Services Centers provide care and companionship for adults and seniors with disabilities who need assistance or supervision during the day. The programs, which can delay or prevent premature institutionalization, offer social, medical, recreational, rehabilitation and educational opportunities. They help adults and seniors with disabilities remain independent while providing caregivers with much-needed time off from their responsibilities.
"Prom is one of the many special activities at our center that gives our adults and seniors a unique opportunity for socialization that they may not get otherwise," said Center Director Corey Odol. "These activities help our participants recapture their youth and make them excited to come to Easter Seals Adult Day Services each and every day. Their caregivers have peace of mind knowing that they are receiving recreation and medical attention in a safe, friendly environment."
Of the 85 participants at the Center, 32 are in their 80's; 16 are in their 90's; and one, Marie Kopp of Baltimore, will be turning 104 in August.
"Prom is a beautiful event," said Claretta Henderson, a participant at the Center. "Everybody looks so nice and you get to see people as you've never seen them before. Easter Seals puts a lot of time into thinking about our needs. I really enjoy coming here."
Twenty-eight participants at the Center are military veterans. A partnership with the U.S. Department of Veterans Affairs allows them to attend the Center twice a week at no cost to the participants.
Easter Seals serving DC | MD | VA provides services to ensure that all people with disabilities and other special needs, including wounded warriors, veterans, and their families, have equal opportunities to lead full and productive lives. For additional information about Easter Seals, call 301.588.8700 or visit http://www.eseal.org.