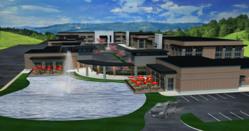 "It's exciting when a project starts to really take shape. Everyone can finally see what is happening and can begin to visualize the project." –
Joe Ahmann; Developer Fountains, LLC
Cedar Rapids, Iowa (PRWEB) June 26, 2013
The Fountains, one of the newest commercial and office developments in Cedar Rapids is well underway, and tenants could gain occupancy as early as fall of 2013. This spring's rain and cooler temperatures certainly tested the patience for the Developer (Fountains, LLC), Construction Team (Compass Commercial Services), Contractors and the public who all have been eagerly awaiting the start of construction at the new City-approved project. The Fountains is located at the corner of Blair's Ferry and Edgewood Roads NE in Cedar Rapids.
The Fountains, LLC- led by Joe Ahmann, has partnered with Fusion Architects for the essential architectural component of the design. Also on the project team is Compass Commercial Services who handle construction operations and property management.
Underground work is nearing completion; foundations have been poured for all three of the Phase I buildings and framing has begun on the first retail building.
Phase I of construction involves the establishment of three buildings; 2 single-story restaurant/retail buildings, and 1 two-story office building. These first three buildings are located in the southern half of the 19+ acre property. Future tenants have already leased some space, while other spaces are currently in the negotiation process. As the buildings fill and actual locations within each building are confirmed, Compass will begin to announce which companies will soon call The Fountains their new home. Anticipation of who will occupy these buildings has been the talk of the town.
Considering the interest, Ahmann feels that construction on Phase II, involving the final three buildings on the northern half of the property, will flow evenly and the entire project will be completed on or ahead of schedule for the public to enjoy.
About Compass Commercial Services:
Compass Commercial Services is a full-service general contracting and construction management firm in the Cedar Rapids area specializing in a wide range of commercial construction projects including interior and exterior renovations, remodeling, building additions and the complete construction of new buildings. As a TRUE design-build firm, Compass Commercial Services is poised to complete projects from the ground up. From the initial design through the entire building process, customers have the advantage of working directly with one company, and a team that is structured to deliver final projects on time, and on budget.