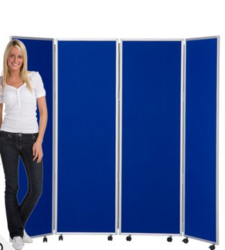 Perhaps most importantly, when they aren't required, room dividers fold into a very small size for simple storage.
(PRWEB UK) 23 June 2013
Panel Warehouse, a leading UK manufacturer of high quality office screens and display stands, is offering 20% off the cost of all mobile folding room dividers in a fantastic new promotion.
Concertina office screens and mobile folding room dividers are perfect for classrooms and offices, in addition to a number of other spaces, which require a versatile space, which is able to change to suit the needs of its occupants.
In fast moving business environments, office layouts and floor plans have to be able to change as and when necessary. Mobile folding room dividers are the quickest and most effective ways to achieve this.
But it is Primary Schools that currently purchase more room dividers from Panel Warehouse than anyone else. This is because each day brings different activities for children, and room dividers help to organise education spaces into the required layout. They also provide a great looking display solution for artwork and certificates. But perhaps most importantly, when they aren't required, room dividers fold into a very small size for simple storage.
A wide variety of other establishments could benefit from the portable and extremely versatile folding screen solutions available from the Panel Warehouse online store, from hospitals and churches to prisons and much more.
Mobile folding room dividers are available in a wide range of colours to suit any space, and customers can choose a size which suits their needs with the number of panels of their choosing. There's never been a better time to choose a set of concertina screens or mobile room dividers, than right now, since this excellent 20% sale from Panel Warehouse will not be around forever.
Of course, customers always save cash when they buy office screens, display boards and much more from Panel Warehouse because they're buying direct from the manufacturer and cutting out the middle man. This means cutting out a supplier's fee and saving a lot of money, but receiving the highest quality screens and room dividers available.
Pay a visit to the Panel Warehouse online store today to find out more about all of the great value classroom and office solutions available, and find something versatile and reliable for any work or education environment.