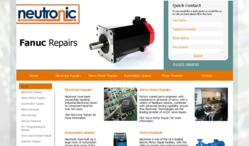 We are fast approaching our 12th anniversary and are looking forward to adding even more of our range and services to the new website.
Warrington, Cheshire (PRWEB) June 24, 2013
The motor and inverter repairs company based in Warrington, Cheshire was formed in September 2001 and now employs nine full-time staff.
Neutronic, the industrial electronics repair specialists, supply, maintain and service electric motors, servo motors and automation spares.
Earlier this year, Neutronic Technologies launched its new website.
The new site showcases each area of expertise that their experienced engineers specialise in including sections on motor repairs, inverter repairs and servo motor repairs.
The site also includes a page on automation spares which Neutronic hold in stock and supply to customers on a daily basis. They supply units from some of the world's leading manufacturers such as Siemens, Indramat, Allen Bradley and Omron.
Neutronic Technologies are official integration partners and distributors for both Control Techniques and Schneider Electric, specialising in sourcing hard to find and obsolete components.
The new website offers visitors the option to buy automation parts online via their eCommerce website, or if customers prefer they can contact their sales team for advice and technical assistance.
There are plans to increase the website with new pages featuring Neutronics new and own brand three phase and single phase electric motors, which are all to IE2 specification.
Neutronics own brand of quality motors are efficient, robust and reliable and are already being used by a wide variety of industries including food and beverage, mining, air movement, pumping and aerospace.
Motors can be purchased over the phone or online at Neutronics eCommerce website http://www.motorsanddrives.co.uk.
"We have received many positive comments from our customers who have seen the new website," said Neil Gallant, Managing Director of the motor and inverter repair specialists – Neutronic.
"We are fast approaching our 12th anniversary and are looking forward to adding even more of our range and services to the new website," Neil added.
"We offer a 24/7 service, free collection and delivery (in the North West) and 12 months warranty on all supplies and repairs. Our range of expertise is extensive as we have specialist engineers for almost everything electronic," said Mr Gallant.
Neutronic work on a national and international basis with many types of businesses including: Airbus, Nestle Waters, Warburtons, Lucchini and JCB.
Due to company expansion, Neutronic are delighted to have welcomed two new members to their growing team.
Because of an increased demand for industrial electronic repairs, Neutronic Technologies recently employed Neil Frodsham as an electronic engineer.
He has over fifteen years experience and knowledge in this field.
Neil joined the Cheshire based motor and inverter repair company from Northern Industrial Electronics where he developed techniques to repair and test bespoke PLC and servo control PCBs.
Neil was also responsible for designing test equipment to improve reliability.
Mr Frodsham has engineering experience with a broad range of electronics equipment including AC/DC drives and inverters, servo drives, power supplies, touch screens, sensors and scanners.
In addition the Warrington based motor and inverter repairs firm appointed Hayley Carr.
Hayley Carr will be working in the accounts department. She previously worked at Beesley & Fildes Ltd, a builder's merchant with several branches in the North West, where she spent over ten years in an accounting role.
"Hayley has taken to her new position extremely well and will be the number one contact for all financially related matters and much more as we move into the future" said Neil.
Another part of Neutronics expansion programme includes the production of a brand new full colour brochure.
The new brochure provides customers with a concise overview of the many services Neutonic have to offer and replaces the previous version which was almost five years old.
Since distributing the new brochure to their existing customers and new contacts Neutronic have recorded a significant increase in enquiries and orders.
"Our sales representatives are really pleased to have our new catalogue as a sales tool. The expansion is going well and with our new staff, website and brochure I'm sure we will continue to progress" ended Neil.