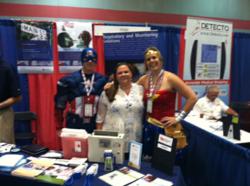 Marcy, NY (PRWEB) June 22, 2013
Mountainside Medical Equipment was proud to participate in the annual NDC conference in Nashville, Tennessee this year. The representatives from Mountainside, Christina (Operations Manager) and Rory (Warehouse Manager), spent the three days at the conference meeting and mingling with NDC members, as well as nationally prominent companies in the healthcare industry including Amsino, PDI, Smith & Nephew and a host of others.
This year's NDC theme was KAPOW! – a Super Hero theme that made everything that much more fun! Christina and Rory found this theme entertaining, especially when the vendor reps dressed up for cocktail hour and dinner as super heroes - everything is always more fun in costume.
The conference ranged from meet and greets with vendors from the Premier Contract Buying Group, a costume cocktail hour, educational classes, informative guest speakers, and the Nelsons also attended the Awards luncheon for customer and vendor growth. The week ended with the KAPOW-Wow Mixer and Dinner which provided great drinks, great fun and great company.
Needless to say, this year's NDC conference was a huge success and entertained our Christina and Rory here at Mountainside Medical Equipment. They were thrilled to see, hear and experience all the show had to offer including new products and the excitement that comes with the new relationships they formed at this year's conference.
About Mountainside Medical Equipment:
Mountainside Medical Equipment is a wholesale medical supplies company that has been serving nursing homes, hospitals, and doctor's offices for over 40 years. With combined experience of over 100 years, we are experts when it comes to innovative medical products and medical supply knowledge. We offer discounted pricing, quick deliveries and exceptional customer service.