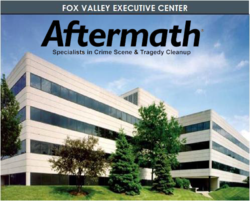 Our goal is to expand on our regional service 'epicenter' offices around the country so a crew can be virtually anywhere in the United States within four hours
Pittsburgh, Pennsylvania (PRWEB) June 24, 2013
Aftermath Inc., the nation's largest biohazard remediation company, announced the company will open a new office in Pittsburgh. This office will help Aftermath expand its efforts to quickly respond to customers in need throughout the continental United States.
The company provides remediation and cleaning services for blood spills, crime scenes, suicides, unattended death, hoarding and tear gas in homes and businesses.
"Our goal is to expand on our regional service 'epicenter' offices around the country so a crew can be virtually anywhere in the United States within four hours," said Kevin Reifsteck, Vice President of Operations. "Our Pittsburgh office will help us get teams dispatched quickly when there's a need, such as traumatic events in the city and surrounding suburbs. Sometimes in bigger cities, people are more isolated socially and thus unattended deaths become a factor for us, often as much as our typical crime and suicide situations."
The new office will serve as a base of operations for Aftermath biohazard remediation crews, with response vehicles specially equipped to respond to any biohazard assignment – even tear gas or animal hoarding.
"It's absolutely critical that we respond to a call quickly," said Kevin Crouch, the Pittsburgh office supervisor for Aftermath. "Our number one priority is getting a scene remediated quickly so families and businesses can begin to heal and move on."
The Pittsburgh location will serve customers in Pennsylvania, West Virginia, eastern Ohio and western New York. Aftermath currently operates another Pennsylvania office in Allentown.
About Aftermath, Inc.
Aftermath, Inc. is the country's leader in biohazard remediation. The company's primary mission is to provide families and property owners with compassionate assistance during a time of tragedy. For more than 16 years, Aftermath has pioneered a sophisticated, science-based approach to remediation that protects the health and safety of people, and restores peace of mind for property.