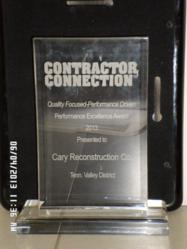 "Our team works around the clock..."
Raleigh, NC (PRWEB) June 23, 2013
CRC has been named Contractor of the Year for 92 leading insurance companies and was selected #1 among thousands of other contractors across the country. Selection for the award was based on quick completion times, quality of repair, customer communication, and survey results. "Our team works around the clock to make sure the families and businesses in need are taken care of," claims Chad Price of CRC.
CRC started in 1969 with just a handful of employees and has now grown into a full service operation. CRC is turn-key from start to finish with its own in house team. The company is North Carolina's largest restoration provider and is continuously growing throughout the country. CRC offers residential, commercial and multifamily services with 24/7 emergency response. CRC's service area covers multiple states in the southeast including NC, SC, VA, TN and AZ.
###