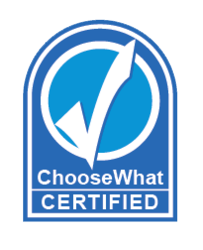 Being around for as long as they have gives them the edge in terms of product knowledge and customer service
Geneva, Switzerland (PRWEB) June 21, 2013
GraphicMail has been awarded ChooseWhat.com's superior service award called the ChooseWhatCheck. The program has been running for over a year and a half in just a few of ChooseWhat's review sections and is awarded to services with the highest quality. Recently, the award has been rolled out to their email marketing review category and GraphicMail was awarded first place, besting some of the industry's top ESPs.
With more than 10 years of experience in digital marketing, GraphicMail offers clients powerful social, mobile and email packages to build business to consumer engagement. Being around for as long as they have gives them the edge in terms of product knowledge and customer service; features so often lacking the current digital marketing environment.
The ChooseWhatCheck award is measured under three criteria, as well as user-rated reviews; making for a more balanced approach in terms of scoring. ESP's were scored on Affordability, Features and Support, with key advantages like GraphicMail's more than 400 free templates and live chat support edging them forward.
As one of the world's leading mobile and email marketing service providers, GraphicMail's services are tailored to support users with skill sets ranging from novice to expert levels of digital experience. This can be seen in the award's client review category, ranking GraphicMail's interface as the most user-friendly of all the contenders.
As yet another affirmation of more than a decade's worth of hard work, this award highlights what others in the industry have already come to know – that GraphicMail's mobile and email services are of the highest international standard, affording clients and partners alike professional services with great value packages.