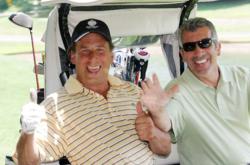 Contributions are essential in allowing us to care for older adults on our campus and in our community, said Rita Mabli, President/CEO of United Hebrew
New Rochelle, NY (PRWEB) June 24, 2013
United Hebrew of New Rochelle will hold its 28th Annual Golf Tournament and Dinner on Monday, July 22, 2013 at Wykagyl Country Club in New Rochelle. Proceeds generated from the tournament will support programmatic initiatives across the campus of services. Last year, more than 120 golfers participated and raised nearly $180,000. This year's golf tournament will begin at 10 a.m. with registration, practice and full breakfast buffet. A shotgun start will follow at noon. Between 1 p.m. and 4 p.m., a barbecue lunch will be served at the Halfway House, and at 5 p.m., cocktails and hors d'oeuvres will be served on the main terrace. Dinner and an award presentation will follow at 6 p.m. in the main dining room.
Anthony Nardozzi of Bedford will serve as event chairperson. United Hebrew of New Rochelle is currently accepting sponsorships and foursomes. Prices are $900 per golfer and $3,500 per foursome. Cocktails and dinner only is $200 per person.
For further information regarding the tournament and/or sponsorship opportunities, contact Grace Ferri at 914-632-2804 x 1190 or gferri(at)uhgc(dot)org or visit http://www.uhgc.org. United Hebrew is located at 391 Pelham Road, New Rochelle, NY 10805.
About United Hebrew of New Rochelle- The Harry and Jeanette Weinberg Campus
United Hebrew of New Rochelle is a not-for-profit, non-sectarian, multi-service senior living campus serving the Westchester metropolitan area since 1919. United Hebrew offers a rich array of skilled and community-based programs and services that encourages and supports a life of dignity and spirituality and promotes the highest possible quality of life. United Hebrew serves over 700 clients daily in its Harry and Jeanette Weinberg campus facilities including Willow Towers, The Beverly and Alfred J. Green Pavilion, a New York State licensed assisted living residence; a 296 – bed nursing and rehabilitation center staffed with Burke Rehabilitation professionals; the 135 – unit Soundview Apartments for seniors; and the AZOR Home Health Agency. For more information visit http://www.uhgc.org or 914.632.2804 x1190.