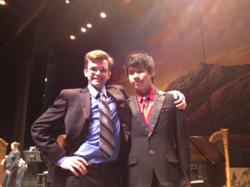 "Julian and In's performance was astonishing. The boys' playing was a sensational finale for the show," said their piano coach, Nelms McKelvain
Idyllwild, CA (PRWEB) June 21, 2013
The Jin Duo from Idyllwild Arts Academy in Southern California, will appear on an upcoming episode of From the Top, on KUSC 91.5, in the Southern California region, on Sunday, June 23 at 6:00 p.m. The hit NPR radio program is hosted by acclaimed pianist Christopher O'Riley.
Broadcast from El Paso, Texas, the show was aired nationally the week of June 17, 2013. The episode was taped before a live audience at the historic Plaza Theatre on June 1, 2013; the live taping was presented by the El Paso Summer Music Festival.
The Jin Duo is comprised by the piano duo of Idyllwild Arts Academy Music students, 17-year-old Julian Jenson from Hemet, California, and 17-year-old Vuthithorn (In) Chinthamnet from Bangkok. The broadcast will feature The Jin Duo performing Variations on a Theme by Paganini for Two Pianos by Witold Lutoslawksi.
Jenson and Chinthamnet were coached by Idyllwild Arts Academy piano faculty Nelms McKelvain and Doug Ashcraft, Head of School, both professional pianists. "This was a very difficult piece they chose to play and their performance was astonishing. The boys' playing was a sensational finale for the show," said McKelvain, who accompanied them to Texas to record the broadcast.
http://www.flickr.com/photos/fromthetopphotos/sets/72157634111787560
From the Top celebrates the remarkable performances and captivating stories of extraordinary young classical musicians around the country. The radio program is broadcast on 250 stations nationwide to an audience of more than 700,000 listeners; From the Top is one of the most popular classical music programs on radio. Each one hour episode presents five high-caliber performances along with interviews, sketches and games, revealing the heart and soul behind extraordinary young musicians. Now in its thirteenth year on air, From the Top is taped before live audiences in concert halls from Boston to Honolulu and is distributed by NPR.
Over the years some of the most prominent figures in classical music have appeared alongside young talent on From the Top. These guest artists include Yo-Yo Ma, Hilary Hahn, Bobby McFerrin, Midori, Béla Fleck and many more. Alumni of From the Top are now popping up in the country's top orchestras and emerging with solo careers.
About Idyllwild Arts:
The mission of the Idyllwild Arts Foundation (a non-profit, 501(c)(3) corporation) is to promote and advance artistic and cultural development through education. Its programs include Idyllwild Arts Academy and Summer Program.
The Arts Academy (founded in 1986) provides pre-professional training in the arts and a comprehensive college preparatory curriculum to a diverse student body of 300 gifted young artists from all over the world while the Summer Program (founded in 1950) provides arts instruction and experiences of the highest caliber to 2,000 participants of all ages and abilities each summer.
Although the Idyllwild Arts' sprawling and pine-forested campus comprises 205-acres in the San Jacinto Mountains, it is but a two-hour drive from Los Angeles, San Diego and many other Southern California communities.
Idyllwild Arts has a long and rich history of service to creativity. Since its founding Idyllwild Arts has been dedicated to providing the ideal environment for artists to pursue their passions with seriousness and purpose.
# # #