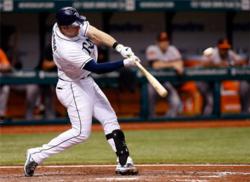 (PRWEB) June 22, 2013
On June 20, 2013, the Tampa Bay Rays looked great as they defeated the New York Yankees 8-3. With the win, the Rays improve to 38-35 and are only 1.5 games behind the third place Yankees in the American League East. The Rays are 2-2 on the road trip, and they still have three more games in New York. Thursday night, Evan Longoria hit two home runs to right field while pitcher Matt Moore achieved his 9th win of the season.
Longoria's big night began when he hit a sacrifice fly ball in the third that led to a 3-0 lead. The hit also gave him his 500th career RBI. He then hit his 15th home run of the season to give his team a 4-0 lead. Lastly, he started off the eighth inning with a solo home run off Joba Chamberlain. This marked his 12th multi home run game of his career and put the Rays up 6-3 against the Yankees. Until that night, Longoria had only two hits in his 21 career at bats against Yankees pitcher Andy Pettitte. With the loss, Pettitte fell to 2-5 and lost his second consecutive start. He now has a 5.13 ERA in his last eight starts.
Rays pitcher Moore had a great night as well. After losing his first three starts in June the pitcher had made his comeback. Moore pitched five scoreless innings to start the game. He ran into some trouble in the sixth inning when the Yankees had the bases loaded with no outs. Moore held his own as the Yankees only cut the Rays lead to one, and the damage could have been much worse. Tampa Bay's offense together had 14 hits on the night, which included back to back doubles by Jennings and Rodriguez. In the eighth inning Yunel Escobar added a two run home run to put the game at the final score of 8-3. To watch your favorite team the Rays continue their hot streak and try to conquer the AL East, go to http://www.Rays-Tickets.org. Here you can find tickets to any Rays game as well as great customer service and a social media fan hub to connect with other fans.