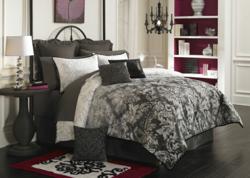 New York, NY (PRWEB) June 28, 2013
Every year, new trends bombard the home fashion world. While some trends seem extreme, others are simply difficult to work into an existing decorative style. The key is to take simple pieces of popular design and incorporate them in a minimalistic and easy way.
One of summer's hottest fashions is ombre. The gradual hue of ombre is trending everywhere. In some cases, bold and bright colors can make ombre designs look intimidating to those that prefer a simpler decor. The beauty of ombre, however, is that it can be created with bright or muted colors, and on a small or large scale. Statement seekers might look for an ombre bedding ensemble, complete with coordinating accessories in varying tones of a complimentary color. These types of choices pop and fill the room with this trending pattern. Look for fashion-forward brands like Vue Bedding to find a variety of colors and styles. If a bedding ensemble is too drastic, find simpler ways to create the ombre look. Choose a few matching decorative pillows with an ombre design, or create the illusion of gradual color starting at the headboard, progressing down to the comforter, and finishing at the bed skirt. A progression of colors can make the design less intense.
If bold patterns aren't on the list, try adding popular colors to any décor. Tropical colors are perfect for summer and brighten any room. Add a few vibrant throw pillows to existing bedding for an instant pop. Or, reverse the focus of the room with muted bedding and bright curtains and sheers. Coordinate throw pillows and curtains to create a complete look. Layers of window coverings can add dimension to any room and allow for even more creative space. Try blackout curtains like Eclipse Curtains, to accomplish fashion and function.
Want the summer trend that never goes out of style? Stripes are very current and one of the easiest patterns to work with. Stripes can range in thickness and color to create a very subtle pattern to an extremely bold theme. Substitute solids with stripes on bedding, curtains, decorative pillows, table cloths, or anywhere in the home that needs a fashion boost.
For more tips and ideas visit Ellery Homestyles.