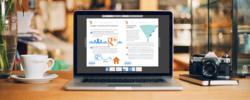 We are thrilled to welcome HubSpot, a leader in the marketing software space and a company we admire, as our 1000th customer.
Toronto, Canada (PRWEB) June 24, 2013
Uberflip announced today that it has passed 1000 paying customers for its digital publishing and content marketing software after growing its customer base 362% since rebranding to Uberflip in 2012. One of those companies is inbound marketing software, Hubspot.
"Reaching 1000 customers is a significant milestone for me and our team of 25 employees," says Uberflip Founder and CEO, Yoav Schwartz. "It's been a little over a year since we rebranded to Uberflip, and the growth has been astonishing. We've had over 10K companies use our software, with over 100K flipbooks created out of documents that existed as flat PDFs."
Uberflip, which has received no institutional funding to date, has grown largely on the back of word-of-mouth advertising and referrals from its naturally viral digital content solution. The SaaS marketing tool makes it easy to share content and increase brand reach through social integrations and a versatile HTML5 web app delivery through the browser.
HubSpot, the leader in inbound marketing and marketing automation, signed up for Uberflip to take their award-winning content marketing to the next level.
"HubSpot creates a lot of ebooks to support our inbound marketing efforts, but as our volume, our team, and our audience all quickly scaled, we needed to get smarter with our content strategy," says Jay Acunzo, HubSpot Head of Content Production and Strategy. "Uberflip's analytics help us understand what our audience cares about, how they engage, and how specifically the various writers on our growing team can improve our reader experience."
HubSpot is just the latest big name brand, across a variety of industries, who have turned to Uberflip to digitize their PDF content. Others include Deloitte, Box, Hard Rock Cafe, Remax, Lexus and more.
"We are thrilled to welcome HubSpot, a leader in the marketing software space and a company we admire, as our 1000th customer," adds Schwartz. "It serves as validation to us that we are best-in-class with regards to digital publishing. We are at the forefront of content marketing and we are continuing to invest in our technology as we accelerate growth."
To view the one minute video that Uberflip put together to commemorate this 1000th customer milestone, click here.
About Uberflip:
Uberflip makes it easy to enhance, share, and track content on tablets and other devices. Within minutes, documents are converted into page turn experiences where leveraging links, video and social media integration is just the beginning. Uberflip's page flip software helps companies save costs and make money through new marketing channels. To see Uberflip first-hand, view their monthly newsletter Going Digital.