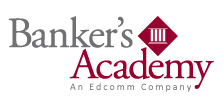 FORT WASHINGTON, PA (PRWEB) June 24, 2013
Banker's Academy is pleased to announce a partnership with Alaska Mortgage Bankers Association(AKMBA) to offer training solutions, at a special discount, to its members. The Banker's Academy Training Catalog is comprised of three categories: Compliance & Regulatory, Banking & Financial Skills, and Professional Skills. All courses can be deployed through Banker's Academy's industry-leading Learning Management System(LMS) that allows for built-in course authoring, classroom training management and tracking, job-specific course assignments and flexible reporting. Banker's Academy will also be offering all members of the AKMBA special and discounted pricing on any courses or services licensed through this partnership.
The AKMBA represents the real estate finance industry. AKMBA is a trade organization composed of loan organization companies, servicing companies and affiliated industry service providers. AKMBA provides current and relevant news regarding mortgage laws and pending legislation. The Association promotes public education, industry trends and other resources to advance the businesses of their members.
________________________________________________________________________________
The Alaska Mortgage Bankers Association, headquartered in Anchorage, AK, has been serving Alaska's mortgage and housing industry for 30+ years.
##
About Banker's Academy
With 25+ years of experience and over 2,500 clients, Banker's Academy is the leading global provider of training solutions to the financial services industry, with a focus on banks, credit unions, mortgage companies and money service businesses. We're a partner you can count on to help you achieve your business goals. For more information, call 888-433-2666, +1.215.542.6900, or go to http://www.bankersacademy.com.