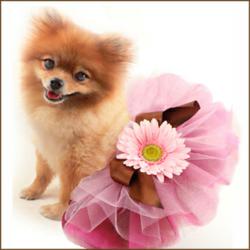 high quality, unique, fun, gorgeous, and Made in the USA
Houston, TX (PRWEB) June 25, 2013
Doggy In Wonderland announced yesterday that they have added dog tutus and ruffled dog dresses to their on-line pet boutique's collection. These new dog tutus and ruffled dog dresses are high quality and Made in the USA.
The fancy dog tutus are designed with plenty of tulle for extra fluffiness. They are sewn and not knotted. Designed with a gap under the belly to prevent soiling, these tutus come in a large variety of colors and style choices. The tutus usually are embellished with a ribbon bow as well as a a flower attachment.
The new ruffled dog dresses add flair to any dog's look. These dog dresses come in a variety of styles and colors. Constructed of chiffon, the ruffles are extra puffy and are usually embellished with a ribbon bow and/or a flower at the ruffle. These dog dresses may be worn for special occasions, as costumes, or just to hang out. Matching hair bows may be purchased to accentuate the outfit.
"We are very very excited about these new tutus and dresses. They really represent what we want our products to be: high quality, unique, fun, and gorgeous. We hope our customers love them as much as we do," one managing partner expressed.
About Doggy In Wonderland:
DoggyinWonderland.com is a leading online pet boutique offering a wide selection of pet accessories and other products for dogs and cats. This includes a full line-up of chic dog products such as stylish dog clothing, collars and leashes, pet furniture and dog beds, eco-friendly pet gear, healthy dog treats, dog toys, pet carriers, and a growing collection of cat products as well. Their goal is not only happy and healthy pets, but also 100% customer satisfaction. Call 866.280.1818 for more information, and see the full product range at DoggyinWonderland.com.