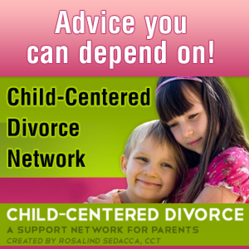 It is not divorce itself but the way parents handle divorce that most harms their children.
West Palm Beach, FL (PRWEB) June 27, 2013
Is it divorce or parental conflict that most damages children? Divorce Expert Rosalind Sedacca believes conflict is the worst culprit. She's creating a Support Group for parents who want more clarity before making any decisions.
Sedacca and many other divorce experts contend that the real source of emotional turmoil for children is parental conflict. She believes sustained family conflict causes children to experience the kinds of problems that are usually attributed to divorce: low self-esteem, depression, high anxiety, difficulty forming relationships, delinquency and withdrawal from the world.
Founder of the Child-Centered Divorce Network, Sedacca tells her coaching clients that it is not divorce itself but the way parents handle divorce that most harms their children. She says children are really scarred by wounded parents who do not care or really understand how their behavior is hurting their children.
"Problems result from vindictive parents who put down their Ex in front of their kids as well as parents who demand sole custody or primary influence over the children with little regard as to the child's relationship with the other parent. It's also parents who confide adult dramas to innocent children, robbing them of their childhood. Or parents who put financial gain and material decisions over the emotional well-being of their children."
Having been raised by parents that chose to stay together in a miserable marriage, Sedacca believes divorce may be preferable to years of living in a home where parents fight and disrespect one another, enveloping the children in sadness and anger.
"That's the world I grew up in and the scars are still with me today, many decades later," says Sedacca, a Divorce & Parenting Coach, Certified Corporate Trainer and author.
Sedacca believes staying in a marriage only for the kids doesn't touch upon the emotional pain children endure when their parents are a couple in name only. There is no positive role model for children to see how marriage can and should be lived. It makes marriage seem like something dreaded or avoided.
"Happiness, cooperation and respect are all absent when parents are emotionally divorced while still living together," says Sedacca. "Children feel it, are confused by it and too often blame themselves for their parents' unhappiness. Consequently, they grow up anxious and guilt-ridden, experiencing little peace in childhood. The scars are much the same as for children who experience a poorly handled divorce."
Sedacca's telephone Support Group will encourage anonymous sharing of guilt, shame and other feelings that keep parents paralyzed in dead-end marriages. She encourages participants to make healthy choices: either get professional help to save the marriage or create a Child-Centered Divorce that will honor everyone in the family.
"I chose the path of Child-Centered Divorce when my own marriage was failing," notes Sedacca. "That involved co-parenting cooperatively, sharing important parenting decisions and maintaining a positive relationship as our son grew from ten to twenty years old. Most gratifying was the satisfaction of having my now adult son acknowledge the merits of my co-parenting philosophy – even writing the Foreword to my book!"
More than a decade after her divorce Sedacca wrote her signature ebook which is acclaimed by divorce experts around the world: How Do I Tell the Kids about the Divorce? A Create-a-Storybook Guide to Preparing Your Children -- with Love!
Sedacca, happily remarried herself, strongly endorses saving a marriage whenever possible. "However, if children are being raised in a war zone or in the silence and apathy of a dead marriage, divorce may be a better option for parents and children alike. But divorce itself is not the solution. Parents must consciously work on creating a cooperative Child-Centered Divorce that puts the children's psychological needs first – as the basis for all parenting decisions!"
To learn more about her Support Group meeting via telephone twice a month, send an email to Sedacca with Support Group in the subject: divorcepro (at) gmail (dot) com
About the Child-Centered Divorce Network
Child-Centered Divorce is an online support network for parents. To get Rosalind Sedacca's free ebook on Post-Divorce Parenting, helpful advice, coaching services, programs and other valuable resources on divorce and parenting issues visit: Visit http://www.childcentereddivorce.com.