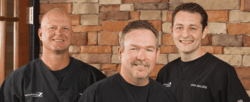 Fort Worth, TX (PRWEB) June 21, 2013
Fort Worth Dental is now able to help gum disease patients with missing teeth to receive dental implants using the Laser Assisted New Attachment Procedure (LANAP) for gum disease treatment. Implants and LANAP can both help patients avoid future issues with periodontal disease and loss of bone density, and dental implants cannot be placed when gum disease is present.
Patients who have lost teeth due to gum disease can also suffer from loss of bone density. When a tooth is present, its root stimulates the bone it is set in; once the tooth is lost and the bone isn't being stimulated, resorption begins. Dental implants solve this problem because they are set directly into the bone, which maintains the stimulation. Resorption can be especially problematic when several or all of a patient's teeth are missing. Patients who receive implants from Fort Worth Dental early on can prevent loss of bone density and the associated procedures and surgeries needed to treat the problem. Many patients also prefer implants to other tooth replacement options because they have a more natural look and feel, and require no maintenance aside from good oral hygiene habits.
In order to receive implants, patients must be free of gum disease and need sufficient bone to anchor the implant. LANAP treats gum disease without removing or harming healthy gum tissue and bone. The gum disease treatment doesn't involve any cutting or stitching; aside from preserving healthy tissue, this guarantees that patients have a quick and nearly painless recovery. The laser used in LANAP also stimulates the bone; this regenerative effect can be very beneficial to patients who have already suffered some loss of bone density.
Dental implants are a popular and widely offered tooth replacement option; in contrast, only one percent of dental professionals currently perform LANAP. However, the treatments complement each other: LANAP sets patients up to successfully receive implants, and both procedures reduce bone resorption. To find out more about how LANAP works and why implants are a superior tooth replacement option, visit the Fort Worth Dental website.
About the Practice
Fort Worth Dental is a general practice offering personalized dental care for Fort Worth, TX patients. Dr. Terry M. Zang, Dr. Arthur J. Mund, and Dr. Justin Mund are all dedicated to their dental practice, which offers the recent FDA cleared laser procedure for gum disease treatment. Focused on preventative, restorative and cosmetic dentistry, they each have unique attributes for the practice. To learn more about Fort Worth Dental and their services visit their website at http://www.fortworthdental.com and call (817) 500-0254.