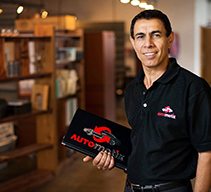 "This is a huge recognition by Google, and we are very honored," said Automotix President Efi Gershom.
Kansas City,MO (PRWEB) June 26, 2013
Automotix has been chosen by Google as a featured business from the state of Kansas. Each year Google creates and distributes an annual economic report, highlighting the impact Google and its clients make on the U.S. economy. The annual economic impact report also spotlights one business in each state, and Automotix was selected as the featured business in Kansas.
"This is a huge recognition by Google, and we are very honored," said Automotix CEO Efi Gershom.
Google helped provide $458,000,000 of economic activity for Kansas businesses, website publishers and non-profits in 2012, according to the report. Google also reported 13,000 Kansas businesses and non-profits benefited from using AdWords and AdSense.
The report draws from three data source to derive an estimate of Google's economic impact including revenue from AdWords on Google.com search results in 2012, dollars paid to AdSense partners in 2012, and in-kind donation made to non-profits through Google Grants in 2012.
##
The Automotix team combines extensive experience in the automotive arena as well as online technologies, allowing sellers and buyers to procure cars, trucks and auto parts. Since the inception of the Wide World Web, we have been working closely with car dealers, classic car traders, car brokers, rebuilders, auto pools, auctions houses, insurance and fleet companies, trucking companies, auto parts suppliers, aftermarket car part distributors, salvage yards, car repair shops, mechanics, do-it-yourselfers and catalog providers.