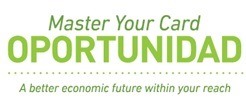 Washinton, DC (PRWEB) June 21, 2013
Master Your Card: Oportunidad, a national public education coalition that helps strengthen Latino communities through the benefits of using electronic payments hosted a panel discussion today at the 84th Annual League of United Latin American Citizens (LULAC) National Convention & Exposition in Las Vegas at Caesars Palace Las Vegas Hotel & Casino.
Panelists Carlos Menendez, Group Executive, Global Consumer Products, MasterCard; Sandra Jauregui, Director, Community Development and Partnerships, Financial Guidance Center; and Leticia Gardea, owner and executive chef at Leticia's Mexican Cocina in Las Vegas, discussed how electronic payment technologies can help Latino consumers and business owners get more from their money by moving out of the cash economy and into the digitally connected world. The panel highlighted advances in technology and new product solutions that eliminate historical barriers to financial inclusion and lead to greater economic opportunity for Latino families, businesses and communities.
"A disproportionate number of Latino households in the United States are either unbanked or underbanked and rely on alternative financial services that often charge exorbitant fees," said Manny Diaz, session moderator, former mayor of Miami and current Master Your Card: Oportunidad advisory board member.
According to the Federal Deposit Insurance Corporation's (FDIC) National Survey of Unbanked and Underbanked Households released in 2012, 28.6 percent of Latino households are underbanked and 20.1 percent are unbanked, meaning they have little or no access to basic banking tools. Nearly 52 percent of Latinos use alternative financial services, such as check-cashing services and payday lenders, in any given 30-day period.
These unbanked and underbanked rates for Latino households are higher than any other ethnic group. In contrast, 8.2 percent of all U.S. households are unbanked, while 20.1 percent are underbanked.
Panelists discussed the time and money savings, as well as the confidence and security that come with using credit, debit and prepaid cards. Electronic payment technology allows consumers to receive and use funds instantly, without costs such as check-cashing or purchasing a money order. Along with these savings comes greater security. Unlike cash and even checks, lost or stolen payment cards can easily be replaced and the funds restored. And, electronic payment networks constantly monitor for fraud and abuse to protect cardholders from losses and liabilities.
"Rapid advancement in payment technologies mean those without bank accounts can still realize many of the benefits of financial inclusion," said Menendez. "They save consumers time and money by eliminating trips to payday lenders and associated fees, and provide greater security by reducing the danger associated with carrying large amounts of cash."
The group also provided business owners with information about how they can use electronic payment technologies to grow their businesses and better compete with larger retailers.
"By accepting electronic payments, Latino-owned businesses can expand their markets online and through mobile platforms," said Menendez. "Small businesses improve their sales and record keeping. Electronic payments also reduce the amount of cash on hand at stores and the risk of theft while offering payment protections against fraud."
According to the U.S. Census Bureau's Survey of Business Owners: Hispanic-Owned Businesses: 2007, which was released in 2010, there are 2.3 million Hispanic-owned businesses in the United States.
Launched in May, the public education campaign is working to engage Latino citizens and small business owners from across the United States, as well as policymakers, on issues of achieving more financial inclusion for the Latino community and the importance of increased access to and confidence in electronic payment technologies.
For more information about Master Your Card: Oportunidad, visit http://masteryourcardusa.org/oportunidad.
###
About Master Your Card: Oportunidad
Master Your Card: Oportunidad is a coalition that aims to help the Latino community understand the full value of electronic payment technology to promote upward mobility and further financial inclusion for families and small businesses in the United States.
About Master Your Card
Master Your Card is a public education campaign by MasterCard® that helps consumers, small businesses and governments get more from their money by using prepaid, debit and credit cards to their advantage.