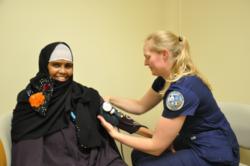 Portland, Maine (PRWEB) June 21, 2013
The Portland Community Health Center at Riverton held an opening celebration on June 20, 2013 with blood pressure checks, cancer screenings, nutrition education and healthy snacks. The center officially opens to the public on Thursday, June 27.
The center's opening makes health care more accessible for residents of Riverton Park – a neighborhood of 141 apartments – and will better prepare future health professionals who deliver care to the City of Portland's underserved populations, including immigrants and refugees.
The new Portland Community Health Center at Riverton is part of the "CHANNELS" program, led and facilitated by University of New England, and made possible through a collaborative relationship with the Portland Community Health Center, City of Portland, Portland Housing Authority, and the Maine Center for Disease Control-Cumberland Public Health District.
Portland Community Health Center is designated as a federally qualified health center. Its mission is to provide high quality patient centered health care that is accessible, affordable, and culturally sensitive.
The University of New England is an innovative health sciences university grounded in the liberal arts, with two distinctive coastal Maine campuses and unique study abroad opportunities. UNE has internationally recognized scholars in the sciences, health, medicine and humanities, and offers more than 40 undergraduate, graduate and professional degree programs.
###