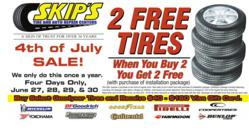 San Jose, CA (PRWEB) June 26, 2013
June 27 - June 30th, Skip's Tire and Auto Repair Centers will be giving you 2 Free Tires when you purchase 2 Tires with an installation package. Not only will Skip's be running their annual 'Buy 2 Tires - Get 2 Free Sale', but customers purchasing select Goodyear Tires in San Jose will also be eligible for up to $160 in Visa Gift Card Rebates!
Skip's Tire and Auto Centers has proudly been serving Tires in San Jose, California area with 6 convenient locations for over 34 years. Skip's Tire and Auto Centers offers the best deals on tires and is equipped with ASE Master Certified Technicians capable of handling the full spectrum of auto repair work. Skip's Tire and Auto Centers maintains the goal of treating each customer the way they would expect to be treated. Building trust by fulfilling needs and expectations is why Skip's continues to be the easy choice for automotive services and tires in San Jose.
SkipsTire.com is powered by Tire Company Solutions (TCS). Tire Company Solutions, a Microsoft Certified Partner, develops and markets both off-the-shelf and custom tire software solutions, web applications, ecommerce platforms, and support and consulting services to tire companies across the US and Canada. TCS has built a product base, which continues to prove itself as a revenue increasing, business streamlining asset to any size tire business. TCS has tools unmatched in the industry, and customization within each of its products to cater to the way tire dealers and retreaders do business. TCS's home office is located outside Nashville, TN with a second location in Salt Lake City, UT.