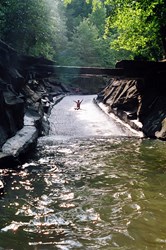 Summer Events
Atlanta, Georgia (PRWEB) June 21, 2013
In the foothills of the Blue Ridge Mountains, Big Canoe's exciting summer events are already under way. Big Canoe is a gated Georgia mountain community who won our Bliss Award for Best Georgia Community of the Year in 2012 in addition to the awards they've won from the Greater Atlanta Home Builders Association. Here's a sampling of what's happening this summer at Big Canoe:
Fourth of July Family Day:
Grab your red, white and blue. Big Canoe's patriotic celebration includes competition for best decorated bicycle and pooch. Old fashioned field games such as tug of war, water balloons, three legged-races, a dunk tank and more will keep the family busy before the night time fireworks display over Lake Petit.
Music Concerts:
The Terraces at the Big Canoe Chapel is hosting concerts in the heart of the community from now until August. Bands and singers entertain residents with new music as well as old favorites. Dixieland bands performing old favorites entice the audience to sing along with "When the Saints Go Marching In" while tapping their toes to American Dixieland jazz. A worldwide trumpet player will be bringing his strong bop approach to this gated Georgia mountain community this summer. Local talent will also be represented. Residents and visitors are encouraged to buy tickets ahead of time to ensure attendance.
Twilight at the Terraces is on the calendar again this summer. It features an all adult symphony which will be playing patriotic tunes in a program entitled "In Honor of America" at the amphitheater.
Music in the Gardens at the award-winning Gibbs Gardens is where residents can walk through and view all of the freshly blooming flora indigenous to the Blue Ridge Mountains while listening to the harps, dulcimers, string quartets, and strolling musicians enhance the visual beauty of the gardens with sweet background music. Gibbs Gardens is an incredible public attraction displaying millions of flowers in themed displays. Music in the Gardens is presented the weekend of Fourth of July, Labor Day weekend, and the Japanese Maples Festival weekend in October. Gibbs Gardens is located less than 10 minutes from Big Canoe's gated entrance.
Farmers Market:
The Village Festival is open on Saturdays now through October. Big Canoe residents can find fresh foods, pies, pottery, baskets, coffees, soaps, and more at this popular weekly event which has grown to 70 vendors.
Art Exhibits:
The Appalachian Renaissance Exhibit is now under way. New this year to the event is that the sponsors, the Blue Ridge Mountains Arts association and the Southern Appalachian Artists Guild, are inviting local "emerging" artists from local colleges and art schools to present their work which will be juried by the sponsors. This is a great opportunity for the community to see what their artistic friends and neighbors are working on at Big Canoe.
Big Canoe Social Clubs:
Residents of Big Canoe are no strangers to a busy activities calendar. At this gated Georgia mountain community social clubs abound, each with their own events taking place routinely. With over 60 Big Canoe social clubs and organizations to choose from there's something for everyone. Here's a sampling of what's going on:
The Wildflower Bunch is a gardening group focusing on preservation and the enhancement of landscape using native plants and shrubs. Their schedule includes hiking through 20 miles of nature preserves with wildflower experts and learning about hellebores, bees, composting and more. The Big Canoe Hikers routinely hike through the mountainous region exploring parks and trails with diverse levels of difficulty. There are men's and women's golf clubs that meet to play and enjoy not only the friendly competition and company of fellow players but also to enjoy the magnificent setting of the course that traverses the Blue Ridge Mountains. There are also several bocce ball clubs.
For those residents of this gated Georgia mountain community who prefer indoor activities, there are Big Canoe social clubs that cater to them. There are several book clubs, a Chicks and Flicks club, the Pine Needle Quilters club, a billiards club, many card-playing clubs, and many more. Most have meetings at least once each month even during the summer.
With everything going on this summer including the Big Canoe social clubs, residents of this friendly community are set for some active, fun-filled times!
About Real Estate Scorecard:
Real Estate Scorecard writes unbiased real estate reviews providing in-depth information about popular gated communities in Florida, Georgia, North Carolina, South Carolina and Tennessee, all in an effort to help people discover where to retire in the Southeast.
Website: http://realestatescorecard.com