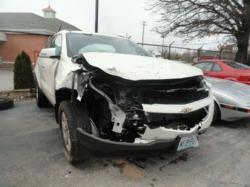 Since 2008, CEI has completed nearly 4,300 salvages sales totaling $13.3 million, and increased its salvages by more than 48 percent last year.
Trevose, PA (PRWEB) June 21, 2013
The CEI Group, Inc. has implemented enhancements to its salvage recovery technology that speed the process and further assure that clients will get the best price for their total-damage vehicles.
The enhancements include a new page in CEI's ClaimsLink 360 internal application that converts all data relevant to salvage claims to digital files and makes it readily accessible to CEI's loss recovery specialists.
Among the enhancements are:

Automated notice from CEI's fleet operations department to the salvage team as soon as a fleet declares a vehicle damaged in a collision a total loss.
A display of up to three estimates of the vehicle's wholesale or retail value from national salvage price data bases, to evaluate buyer bids.
The ability to send emails to an unlimited number of salvage buyers requesting bids.
A display of all bids received.
An unlimited display of all actions taken in the salvage process for every salvage claim.
"These enhancements have improved our salvage team's productivity and is helping our clients receive more funds faster," said Chris Villella, CEI's senior manager of loss recovery and insurance services.
He explained that by speeding up the salvage process, the enhancements also help to shorten the average time it takes his department to complete the recovery of funds from third-party drivers responsible for accidents with CEI fleet clients.
Since January, 2008, CEI has completed nearly 4,300 salvage sales with a total value of $13.3 million. The company increased its salvage sales by more than 48 percent from 2011 to 2012.
About The CEI Group, Inc.
CEI is a leading provider of technology-enhanced vehicle accident, driver safety and fleet risk management services. Its provider network consists of some 4,000 collision repair shops in North America, and includes nearly 900 truck collision repair centers. Its customers include self-insured, commercial, institutional and government fleets, directly and through alliances with fleet leasing companies. CEI also provides vehicle direct repair program outsourcing to leading property and casualty insurance companies. For more information, please visit http://www.ceinetwork.com.