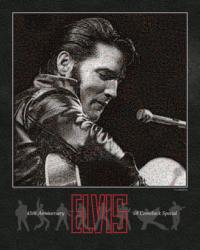 Northfield, Ohio (PRWEB) June 27, 2013
It's been 45 years since Elvis Presley sent fans into a frenzy with his '68 Comeback Special. To celebrate the anniversary, Fan Mosaics and Elvis Presley Enterprises are partnering to create the official Elvis '68 Comeback Special Fan Mosaic.
"We're thrilled to help Elvis Presley Enterprises and Elvis fans worldwide mark the anniversary of this huge event," says Rob Hixenbaugh, Fan Mosaics' director of fan & brand development. "We've worked with Elvis fans before, and their dedication is beyond impressive. Fan Mosaics is delighted to give them another opportunity to show their love for the King."
This photo mosaic, featuring an incredible image of Elvis from the comeback show, will be composed entirely of fan photos, submitted by fans themselves. These color photos will be used to rebuild the Elvis image in black and white—Fan Mosaics' visual magic will make Elvis appear in black and white from far away, while up close all of the small images will be in color.
The Fan Mosaic will be turned into a mural that will hang in Graceland, as well as a high-quality commemorative print that fans can purchase for only $19.95. The mosaic will also include the famous Elvis red light logo from the show, and the black border will have a leather-like look that evokes memories of Elvis' unforgettable outfit.
Fans can upload their photos for free by computer or mobile device at http://www.FanMosaics.com/Elvis68 now through the end of July. It's an exciting, creative way to be part of Elvis Presley history.
About Fan Mosaics
Northfield, Ohio-based Fan Mosaics, LLC, is the bridge that connects fans and stars. The company's officially licensed celebrity photo mosaics—composed entirely of fan-submitted images—are a unique and lasting outlet for fans' enthusiasm and loyalty. Entertainers in all industries choose Fan Mosaics to thank fans for their dedication, and charities partner with Fan Mosaics to raise funds for their worthwhile causes. Visit http://www.fanmosaics.com to view completed and current projects and to learn more about the Fan Mosaics creation process.
About Elvis Presley Enterprises, Inc.
Elvis Presley Enterprises, Inc., is based in Memphis, with additional offices in Los Angeles. In addition to Graceland and its related attractions in Memphis, including the Heartbreak Hotel, EPE is aggressively involved in a worldwide licensing program, merchandising, music publishing, and television, film, video and Internet projects. For more information on EPE and Graceland, visit elvis.com.
# # #