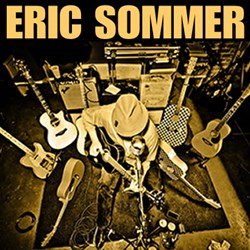 A journeyman player, singer and writer who just gets better and better and better...
Pix Martin
San Francisco Wire
Chicago, IL (PRWEB) June 23, 2013
Eric Sommer is happy to ride the pop americana bronco back to Chicago.
In the shadow of one of the greatest skylines in the world sits Wrigley Field, home to The White Sox since 1916, and sharing that shadow a few blocks away is Uncommon Ground, one of the finest acoustic music showcase rooms in all of Chicagoland.
And it's here at Uncommon Ground on Grace Street that you'll find one of the finest American guitar players, writers - gritty as Studs Terkle himself - and singers this Tuesday night, June 25th, holding forth with guitar and voice, 200 songs and 500,000 road miles under his belt: Eric Sommer.
Uncommon Ground on Grace St. is an ideal setting for this American troubadour - the new music room is larger than before, the stage more accessible to the audience and the sound is simply perfect. So it's a fitting setting for Eric Sommer to introduce the new songs off his latest record RAINY DAY KARMA, and to stretch out on a few tunes with his vintage and colorfully cheap guitars - sea-foam green, black, one loaded with pearl inlay, a '69 Telecaster, a 1937 Valco Shield 10watt amp...
New songs include "I Caught a Cab" and "Europe, Europe" and the alt rocker favorite "Red Queen". The songs were recorded in Pittsburgh and the vocals were mastered in Nashville by Jeff Silverman. It is a tour de force of guitarin', singin' and songwritin'... all wraped together. One of the outstanding cuts on a disc loaded with them is "Cover My Soul in Gasoline".
Additionally, Mr. Sommer is an accomplished writer - in the tradition of O. Henry, Truman Capote and Jack Kerouac. Currently there are two collections of prose available - "Red Chairs", musings on Waffle House, pancakes and parking lots, and "Black Pancake" about a large cloud that settled over Newburgh, NY on The Hudson River some years ago.
Currently in the process of completing a series of very short literary vignettes, Eric is also editing a short autobiographical work about growing up in central New Jersey and finding himself - at 5 years old - surrounded by his neighbor's friends - the core artists that produced some of the most exciting "events", "happenings" and sculptures of the American Modern Art Movement - Red Grooms, Alan Kaprow, Jim Dine, Dan Schmidt, Ruth Schmidt, Robert Rauschenberg, Claus Oldenburg and many others. Red Chairs and Black Pancake are available online as well.
Eric started his musical career in the Boston area and has been a regular player on many national tours and showcases. He worked in Europe for 2 years on Danish, German and British rock stages, returned to Boston and formed The Atomics, a cult power-pop band in South Boston. His influences are as diverse as Townes Van Zandt, Steve Earle, Steve Howe and The Ramones. Mr. Sommer's current project with power trio "The Solar Flares" shake up Chet Atkins and David Bromberg influences with those of Randy Travis and Elvis Costello - a remarkable mix.
With open tunings, slide guitar, lap-slap tone guitar and a remarkably aggressive fingering style approach, watching Eric Sommer will make you jump out of your seat and holler for joy! There are very few players who have maintained this authentic American style of guitar and Eric Sommer is one of the very best.
Joining Mr. Sommer on the bill will be native Chicago gem Lou Shields and Chicago up-and-comer Sarah Gamboa.
Amen.
_________________________________________________________________________
••••• Advance seating reservations are essential if you don't want to stand all night. Call 773-929-3680 to reserve a table.
For Music Samples please visit Eric Sommer online for additional schedules or contact him at eric(at)ericsommer(dot)com or call 202-255-1995. Additionally, you can find Eric Sommer on Facebook, too. RAINY DAY KARMA is also available on iTunes and CDBaby.
Eric Sommer is represented by Clyde is Thinking, and PR programs are managed thru MTG/NY; For more information, promo/appearance requests or to set up an interview, please contact Tom Monihan 202-255-1995.