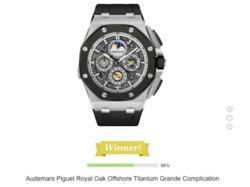 New York, NY (PRWEB) June 21, 2013
It's official! Audemars Piguet has won Carmelo Anthony's Haute Time Timepiece Madness 2013. The voter-driven contest where the top timepieces in haute horlogerie compete against each other has determined the hautest watch of 2013. In each bracket, two watches faced off, and the watch with the most votes moved on to the next round. From 64 watches down to just one, it was incredible to see the response each timepiece garnered.
The Finals of Haute Time Madness 2013 wrapped up on June 20, with the final tally giving the title of hautest watch of the year to the Audemars Piguet Royal Oak Offshore Titanium Grande Complication. Blancpain's Tourbillon Carrousel came in a close second. This is the second year Audemars Piguet has won the competition; last year, the Audemars Piguet Extra Thin Royal Oak Limited Edition took home the prize.
Haute Time would like to congratulate Audemars Piguet on a game well won.
http://www.hautetime.com/haute-madness-2013/
About Haute Time
Haute Time is the # 1 online resource for luxury watches worldwide, bringing you news, events, celebrity favorites, and of course, the latest models from your favorite luxury brands. With a Watch of the Day pick from NBA superstar Carmelo Anthony, weekly reviews from Carol Besler, and in-depth interviews with industry leaders, Haute Time is truly the ultimate destination for the luxury watch enthusiast.