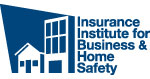 (PRWEB) June 21, 2013
Seattle (June 21, 2013) – Dr. Murray Morrison, a research engineer at the Insurance Institute for Business & Home Safety (IBHS), was presented the Richard Marshall Award this week during the 12th Americas Conference on Wind Engineering (ACWE) in Seattle.
Morrison, a member of the American Association for Wind Engineering, was recognized for the best doctoral thesis related to experimental methods or field investigations, which made a significant contribution to the field of wind engineering. The title of his thesis was, Response of a Two-Story Residential House under Realistic Fluctuating Wind Loads. This prestigious award honoring a PhD in wind engineering from a university in the 'Americas Region' of the International Association for Wind Engineering is presented every four years and is accompanied by a $1,000 prize.
"This honor for Dr. Morrison is much-deserved," said Dr. Tim Reinhold, IBHS chief engineer and senior vice president of research. "Murray's dedication to expanding the knowledge base of wind engineering and producing real-world applications to reduce losses from severe wind events is outstanding. He is a valued member of the IBHS research team, and we are proud to have him as a colleague."
Morrison, who joined IBHS in 2011, was among several IBHS research engineers who gathered with wind science and wind engineering experts in Seattle to present papers at the ACWE conference. Held every four years, the ACWE event brings together scientists, engineers, architects, educators and practitioners from around the world and includes dozens of presentations about wind research and keynote addresses from top research experts.
During the conference, Morrison presented Wind Loads on Small Roof Mounted Air-Conditioning Units. This research examined the effects that unit porosity, location and elevation had on wind loads, using custom-designed force balances specifically designed by IBHS. The primary finding of this study is that the current standards for wind loads on roof-mounted equipment in the ASCE7-10 (2010) are adequate.
Prior to IBHS, Morrison worked on numerous research and industrial contracts involving wind loads on full structures and cladding elements at the Boundary Layer Wind Tunnel at The University of Western Ontario. He also worked as a technology coordinator at the Insurance Research Lab for Better Homes where he continued development and implementation of the laboratory's multi-million dollar pressure loading system, instrumentation and data acquisition equipment.
About The Insurance Institute for Business & Home Safety (IBHS)
IBHS is an independent, nonprofit, scientific research and communications organization supported by the property insurance industry. The organization works to reduce the social and economic effects of natural disasters and other risks on residential and commercial property by conducting building science research and advocating improved construction, maintenance and preparedness practices.