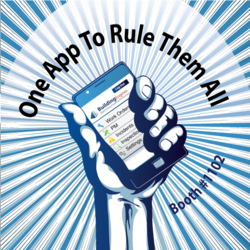 Boston, MA (PRWEB) June 21, 2013
Building Engines, a provider of a comprehensive mobile property operations management system, will be showcasing its innovative technology at the BOMA 2013 Every Building Conference from June 23-25 in San Diego, CA. You can find them at booth #1102 in the Technology Pavilion.
Building Engines will change the way you think about maintenance and service delivery. The BE-Mobile App lets property and facility teams execute Work Order, Incident, Inspection, and Preventative Maintenance tasks from any mobile device. It puts all your building operations in the palm of your hand.
In addition, if you are attending the conference, there are several ways you can win a prize, as well as see a demo of our REvolutionary BE-Mobile App in action.
1. Register for our BE-Mobile App demo and receive a $30 Amazon gift card
2. Download the BE-Mobile App from your App Store of choice (iTunes, Google, Blackberry), then come to our booth for your copy of The Definitive Guide to Mobile Property Management, and a $10 gift card
3. For a chance to win an iPad Mini, visit our booth and tweet a picture of you (or a friend!) with anything that has the Building Engines logo @BuildingEngines
4. Bring the belly-band wrapped around the BOMA 2013 Conference Directory to the booth to receive a prize
5. Get caught wearing a "One App to Rule Them All" sticker and win a prize
For more information on the giveaways and what to expect from Building Engines at BOMA, click here.
About Building Engines, Inc.
Building Engines is an innovative software as a service (SaaS) provider of a mobile property operations platform for commercial real estate. We help our clients improve building operations and tenant service by automating tasks and simplifying data collection through the use of mobile technology. This delivers real-time visibility and actionable intelligence to property teams. We are the only real estate technology provider to support all major mobile platforms and tightly integrate the power and capabilities of smartphones and tablets into our application. It's all backed by 12 years of experience and service that's led to a 98% client retention rate. More information: http://www.buildingengines.com/