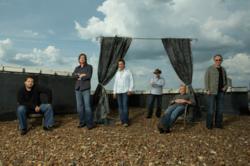 Knew almost every song they did. All amazing classic Diamond Rio songs that I remember from when I was a kid. Great concert and very entertaining. Definitely recommend!!!
Branson, Missouri (PRWEB) June 21, 2013
Six-time Vocal Group of the Year, Diamond Rio appearing live at the Oak Ridge Boys Theatre October 5th, 2013
The band has sold over 10 million albums earning three platinum and five gold records and has been awarded Country Music's Association's vocal group of the year four times as well as netting two Academy of Country Music Awards in the top vocal group of the year category and thirteen Grammy nominations.
To request more information on Branson or order show tickets CLICK HERE.
When they debuted in 1991 with the hit "Meet In The Middle," Diamond Rio became the first group in the history of country music to have a debut single reach #1. They continued to place 32 more singles on the Billboard chart including "How Your Love Makes Me Feel," "Norma Jean Riley," "Beautiful Mess," "Love A Little Stronger," and "One More Day."
The band is a long-time supporter and they serve as National Spokespersons for the Big Brothers Big Sisters and have raised over 1.5 million dollars for the charity to date through annual events.
The Oak Ridge Boys Theatre is proud to add Diamond Rio to their 2013 Star Series Line Up.
Tickets go on sale Wednesday April 10th and can be made by calling the office at 1-800-432-4202.