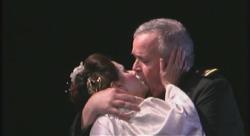 Otello becomes "ferocious like a savage"
Bound Brook, NJ (PRWEB) June 25, 2013
Dr. Peter Lewis discusses his view points on the title role in Eastern Opera of New Jersey production of Giuseppe Verdi's dramatic opera, Otello. The opera will be performed in joint collaboration between Eastern Opera of NJ and the Baroque Orchestra of New Jersey. The performances are: Sunday, August 11, 3:00pm, at Dolan Hall, College of St. Elizabeth, semi-staged with full orchestra and costumes; and Friday, August 16 at 8:00pm, Saturday, August 17 at 8:00pm, and Sunday, August 18 at 3:00pm, fully staged with orchestra, costumes and sets, at the historic Brook Theater, 10 Hamilton Street, in Bound Brook, New Jersey.
The role of Otello is double cast with New Jersey tenor, Peter S. Lewis, and New York tenor, John Tedeschi.
Peter S. Lewis has experienced a long and varied singing career having sung over 25 leading tenor roles in the San Francisco Bay Area as well as New York and New Jersey. Lewis has also performed many concerts featuring works from operetta and Broadway with a particular focus on the works of Sigmund Romberg and Rudolf Friml. After a summer as an Apprentice Artist with Santa Fe Opera, Lewis studied with the great operatic tenor, Frederick Jagel and coached with the renowned conductor, Dr. Jan Popper. Lewis also co-founded with his wife, Karole, the highly regarded Santa Cruz, California, Bay City Opera company which produced numerous fully-staged operas with orchestra and concerts during its seven year history.
For over 30 years, Lewis has maintained a career as an educator alongside an active singing career. At present, Dr. Lewis, who received his Ph.D. in Administration and Policy Analysis from Stanford University's School of Education, is the Head of School at The Winston School in Short Hills, New Jersey. Winston works with children in grades 3-8 who have academic learning challenges and particularly struggle with reading and writing.
Otello is a new role for Dr. Lewis. He provides the following observations and thoughts:
The role is demanding and often punishing and vocally treacherous for the tenor. A solid and healthy mid-range is absolutely necessary alongside the normally demanding tenor "high notes" which appear regularly throughout the opera. The tessitura is vast but it still gets down to the reality that the singer has to navigate competently the traditional singing line between F and A. In Act I, Otello is the responsible and highly respected leader as well as the passionate lover and husband who, in line with other Verdi and Puccini heroes, must sing with beauty and faithful ardor towards his lover, Desdemona. However, as the role moves through the succeeding acts, Otello becomes, as Carolyn Abbate and Roger Parker state in their new History of Opera, "crushed to the point of baseness." Otello becomes "ferocious like a savage" and musically he must "sing and shout" while Desdemona remains the sweet, trusting and faithful wife with singing lines in the true bel canto tradition.
Lewis remarks: "As a singer so accustomed to the passion and lovely lines of bel canto and Puccini and earlier Verdi, the reality of singing and shouting, and the demands of violent anger alongside tender passion create vocal and dramatic challenges and tension. Singers are usually taught to sing beautifully; Otello must sing dramatically with the moment, and the turn in emotions can be sudden, abrupt and incredibly taxing on the vocal instrument."
In so many respects, Otello reflects the new style of modern drama that Verdi had decided to pursue—in large part because of his collaboration with the librettist, Boito, a much younger and far more modern interpreter of stage drama. The singing required of Otello, the character, thus encompasses the overall "generational shift" in operatic music and drama brought upon by the unlikely but incredibly successful collaboration between the senior Verdi and the younger Boito. The authors, Abbate and Parker, note that in the opera Otello, critics and audiences can witness a new-found "trust" by Verdi in the virtues and impact of modern drama along with a "Wagnerian influence" without the presence of the Wagnerian nationalism. Verdi was now able in his second-to-last opera, Otello, to "reinvent his operatic language" and move beyond what Boito himself once called the "provincialism" of his past works.
The singer Otello is caught between the "new and the old" in terms of vocal lines and vocal demands—as well as the dramatic flow of energy necessary to sustain the pure singing and the angry and shouting declamations emanating from the dramatic actions on stage. "The results are extraordinary," concludes Dr. Lewis, and certainly challenge the singer towards new heights of dramatic energy and musical ardor."
Eastern Opera Corp. is a nonprofit corporation organized and operated exclusively for charitable purposes. Specifically, Eastern Opera has been formed to encourage and instruct individuals for the purpose of improving and developing their capabilities, to educate the public on subjects useful to the individual and beneficial to the community, and to promote the arts and culture to the local communities. The first opera performance, Puccini's Madama Butterfly (May, 2013) was met with standing ovations. For more information, contact Lou Kersey at loukersey(at)easternopera(dot)org or visit http://www.easternopera.org.