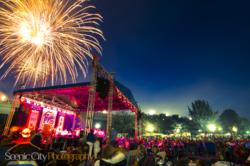 Chattanooga, Tennessee (PRWEB) June 21, 2013
Why settle for just one fireworks show when you can enjoy four days of impressive fireworks displays? The skies over Chattanooga will be filled with colorful displays this Independence Day weekend giving travelers another reason to visit area attractions.
For more details, visit http://www.chattanoogafun.com/blog/chattanooga-fireworks.
The celebrations begin in grand style on July 3rd as people gather in Coolidge Park, located across the river from the Tennessee Aquarium, to enjoy Pops on the River. This evening of fun opens with a free performance by the Chattanooga Symphony Orchestra. The music rises to a crescendo while a spectacular fireworks show lights up the sky and illuminates the river.
There's nothing more American than baseball, hotdogs and fireworks on the 4th of July. Baseball fans will find all three and more as the Chattanooga Lookouts take on the Jacksonville Suns at AT&T Field. After the game, watch the outfield and skies overhead light up in a flurry of flashes and booms. Call it a fireworks double-header – the Lookouts and Suns play again on Friday, July 5th with fireworks after the game.
It will be hot as a firecracker during the holiday, so cool off at the region's newest waterpark - Lake Winnie's "SoakYa!" Spend the day floating along a refreshing lazy river and stay to check out their dazzling fireworks displays on July 4th AND July 6th.
Chattanooga Fireworks Full Schedule:
Wednesday, July 3rd Pops on the River
Thursday, July 4th Chattanooga Lookouts and Lake Winnie
Friday, July 5th Lookouts
Saturday, July 6th Lake Winnie
Photo attached courtesy: Scenic City Photography