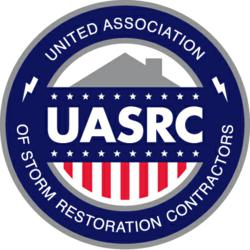 Owens Corning Roofing and Asphalt, LLC is pleased to announce our Premium Associate Membership level with the UASRC
Round Rock, TX (PRWEB) June 24, 2013
The United Association of Storm Restoration Contractors (UASRC) is excited to announce Owens Corning's commitment as a Premium Associate Member. "Owens Corning from the very beginning has been a leader in their support for the UASRC. Matt Lawver (Contractor Services Leader) is a very active and passionate member of our advisory board. It only makes sense that OC would be the first manufacturer to offer their financial support," said Jacob Sachs, Executive Director of the UASRC.
The mission of the UASRC is to promote the highest ethical standards in the catastrophe restoration industry. This would not be possible without the support of our associate members. "Owens Corning Roofing and Asphalt, LLC is pleased to announce our Premium Associate Membership level with the UASRC. We are proud to support this organization and the positive efforts they contribute to the storm restoration industry," Bill Mabry, Customer Programs Leader, Owens Corning.
When asked what the motivation of the recent decision, Rich Spanton, Chairman and founding member of the UASRC said, "Many of our members purchase shingles and supplies from OC and we have several OC Platinum Contractors that are members of the UASRC. We are excited to have OC as part of our advisory board and now as a Premium Associate Member. It shows their level of commitment to the UASRC and our mission."
"It's exciting to see OC as the first manufacturer to make a financial commitment to the UASRC," said Bill Combes, Director of Marketing, and Membership. "They have always been a leader, and this is just another example of their willingness to go the extra mile to make things better for an industry that is in desperate need for positive change."
Companies that are interested in participating in the UASRC Associate Member Program can contact the UASRC at 888-988-2772 or info(at)uasrc(dot)org. Associate member companies would consist of companies that support the storm restoration industry such as roofing, gutter and siding manufacturers, roofing suppliers, aerial measurements, and storm and hail reporting companies.
About Owens Corning
Owens Corning (NYSE: OC) is a leading global producer of residential and commercial building materials, glass-fiber reinforcements and engineered materials for composite systems. A Fortune® 500 company for 59 consecutive years, Owens Corning is committed to driving sustainability through delivering solutions, transforming markets and enhancing lives. Celebrating its 75th anniversary in 2013, Owens Corning is a market-leading innovator of glass-fiber technology with sales of $5.2 billion in 2012 and approximately 15,000 employees in 27 countries on five continents. Additional information is available at: http://www.owenscorning.com.
About the UASRC
The http://www.uasrc.org was formed in part to give property owners the information they need to make an informed decision in regards to their storm related repairs. The UASRC also serves as a resource for property owners and contractors that have fallen victim to disreputable contractors, and insurance claim related issues.