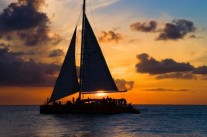 We saw dolphins, birds and an incredible sunset. We can't wait to go back.
Panama City Beach, FL (PRWEB) June 22, 2013
Travelers visit Panama City Beach, FL to experience closeness to nature in a relaxing environment. Therefore, TripShock.com identified four tours that offer incredible views of everyone's favorite beach icon, the sunset.
Sunset Sailing aboard The Privateer Catamaran:
Experience a beautiful Gulf Coast sunset aboard The Privateer while listening to tropical music and sipping on a complimentary beverage of your choice. Summer Special: $5 off tickets for ages 11 and up.
"We took a sunset cruise and had a great time. Everyone was enthusiastic about the trip and the staff was helpful. We saw dolphins, birds and an incredible sunset. We can't wait to go back."-TripShock review
Panama City Beach Parasailing Adventure (Beach Location):
Tourists will take off from the beach on a banana boat and meet up with the parasailing crew in the Gulf. They will then have the opportunity to observe the shore from 800 feet in the air. Once back on shore, tourists can soak up the last few rays from the beach and watch as the sun meets the horizon.
Panama City Beach Helicopter Tours:
Passengers will travel high in the sky on a helicopter tour and view the sunset from an elevated vantage point. Tours range from 5-25 minutes and travel along Panama City Beach's emerald and white shoreline. Tourists will observe sunken ships and diverse marine life thriving in the very waters where humans play. Summer Special: Book online for $5 off all tours and $10 off Shell Island or Seaside Flights.
"I didn't realize how close the sharks get to shore until we were in the helicopter tour to Shell Island! The views are crazy from up there. We loved it so much, we did two tours with these guys." –TripShock review
The Beach:
After a day of fun in the sun, there is no better way to wind down than to sit on the beach and watch the tide come in while a quintessential Florida sunset paints the sky with colors that have yet to be named. It is a life affirming experience that every traveler should add to his or her bucket list.