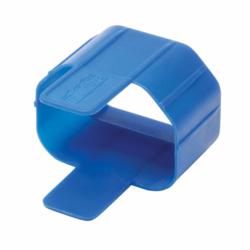 An accidental disconnection, even for an instant, interrupts the power and can crash systems and destroy data.
Chicago, IL (PRWEB) June 24, 2013
Tripp Lite, a world-leading manufacturer of power protection and connectivity solutions, has introduced PDU Plug-lock Inserts, a simple-to-use solution for preventing accidental disconnection of C20 and C14 plugs. IEC plugs are frequently loose-fitting and can be accidentally disconnected by even the slightest nudge or vibration, a likely event during routine network maintenance. Tripp Lite PDU Plug-lock Inserts fit over the input plug, ensuring a secure connection between the plug and the outlet.
Tripp Lite's PDU Plug-lock Inserts provide an easy-to-use alternative to other retention methods, like zip-ties, duct tape or expensive proprietary hardware. As an added benefit, they are compatible with any manufacturer's cord—-no special PDU hardware, cables or outlets are required.
Key Features and Benefits:
-- Prevent accidental disconnection of C20 plugs from C19 outlets and C14 plugs from C13 outlets
-- Provide up to 10 times more retention force than standard connections
-- Universal compatibility, no special cables or brand-specific locking schemes
-- Simple installation saves time
-- Available in black, blue and red for color-coding
"An accidental disconnection, even for an instant, interrupts the power and can crash systems and destroy data," said Rich Feldhaus, Tripp Lite Product Manager. "Our PDU Plug-lock Inserts offer users a cost-effective, easy-to-integrate solution for keeping plug connections secure and data safe."
For more information on the plug-lock inserts, visit: Tripp Lite PDU Plug-lock inserts.
For product images, visit: Tripp Lite PDU Plug-lock insert images.
About Tripp Lite
Outstanding product reliability and exceptional service have been Tripp Lite trademarks for over 90 years. Tripp Lite's innovations include the world's first UPS system designed specifically for personal computers, and the world's most trusted premium surge suppressor--the Isobar®-with more than 19 million in use. Tripp Lite maintains the highest level of ready-to-ship inventory in the industry with more than 2,500 different products, including UPS systems, rack systems and cooling solutions, PDUs, PowerAlert software for enterprise-level system management and control, surge suppressors, KVM switches, cables and connectivity products, inverters, power strips and notebook accessories. Headquartered in Chicago, Illinois, Tripp Lite maintains a global presence with fully staffed offices worldwide. Additional information, including a list of Tripp Lite's sales offices and authorized reseller partners, can be found by visiting Tripp Lite's website: http://www.tripplite.com.