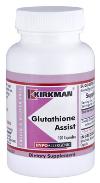 Kirkman® developed its Ultra Tested® standards for purity in response to the growing problems of environmental contamination in the nation's food supply.
Portland, Ore. (PRWEB) June 21, 2013
Kirkman®, just released Glutathione Assist, a proprietary nutritional supplement that helps the body naturally produce glutathione to strengthen the immune system.
Kirkman® is a 64-year old nutraceutical company that specializes in manufacturing dietary supplements for individuals with sensitivities, allergies and special dietary requirements.
As with most products that Kirkman® manufactures, Glutathione Assist is Ultra Tested®, which means that it has been purity tested for more than 950 environmental contaminants. No other nutritional supplement company in the world offers the degree of purity testing that Kirkman® does.
Glutathione Assist, is formulated with ingredients aimed at improving immune system function, aiding the body in naturally producing glutathione through the Kreb cycle. Glutathione Assist also helps users to detoxify and remove harmful compounds from the body.
The ingredients used in this product were chosen because of their specific functions. The TMG in Glutathione Assist supports the methylation pathway by supplying methionine, which is instrumental in the Kreb Cycle and the body's production of glutathione. It also reduces harmful homocysteine levels. Additionally, Folinic Acid, Zinc and Methyl B-12 are all necessary components of a healthy methylation pathway, which supports a healthy immune system.
Glutathione has a number of important functions in the body:

Antioxidant: The primary role of glutathione is to function as a powerful antioxidant, helping to neutralize free radical damage to a cell's DNA and RNA. By increasing the ability of cells to cope with oxidative stress, glutathione can assist in blocking free radical damage to all types of tissues in the body, thereby diminishing the degenerative processes usually associated with these free radicals.
Immune Modulation and Stimulation: Glutathione plays a crucial role in supporting the immune system's T-cells and B-cells activity. Additionally, adequate levels of glutathione support a healthy body by stimulating the production of other important immune cells known as phagocytes.
Detoxification: Glutathione is a vital component of the liver's detoxification systems. Both glutathione and its precursor, N-acetylcysteine (NAC), contain sulfhydryl groups that directly bind to and help eliminate many types of toxins from the body.
Other Functions: Glutathione helps facilitate the transport of amino acids and is involved in the production of several other important enzymes and coenzymes in the body.
More About Ultra Tested®
Kirkman® developed its Ultra Tested® standards for purity in response to the growing problems of environmental contamination in the nation's food supply. In our modern world, environmental contaminants are ubiquitous. The rigorous purity testing that Kirkman® conducts on its Ultra Tested® products is an assurance to customers who use Kirkman's products that their nutritional supplements are pure and safe to take.
So why are Ultra Tested® products the best?
Kirkman® developed their Ultra Tested® product line to help families stay healthy by not introducing contaminants through the use of supplements.
Included in these 950 contaminants that Kirkman® tests for are potentially harmful levels of heavy metals, pesticides, fungicides, herbicides, endocrine disruptors and chemicals. Kirkman® believes this level of testing is necessary to ensure the safety of nutritional supplement products.
Contaminants found in supplements across the world come from the natural ingredients and processes used to create them such as: chemicals transferred to vitamins from the factories they are manufactured in; minerals, herbs and spices and dehydrated fruits and vegetables that come from potentially contaminated soil; herbs and spices and dehydrated fruits and vegetables that are sprayed with potentially harmful pesticides; and potentially contaminated water, used in the processing of raw materials, that could include chemicals, pesticides, heavy metals and other residues.
More information about Kirkman's nutritional supplements and their Ultra Tested® process can be found on the company's website at http://www.kirkmangroup.com.
Contact: Kulani Mahikoa
V.P. Marketing
Kirkman Group, Inc.
Telephone: 503-694-1600
E-mail: kmahikoa(at)kirkmangroup(dot)com