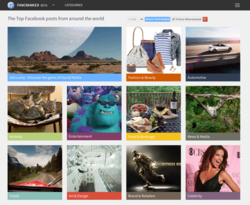 With FanCranked, we can now help expose great content that Facebook Pages are posting, while helping users find that great content with ease.
Toronto, Canada (PRWEB) June 27, 2013
FanCranked.com helps users easily discover the top Facebook Posts from around the world. On FanCranked.com, users are presented with the hottest and most talked about trending Facebook posts. Users are regularly provided fresh and exciting content, allowing them to discover the most precious gems of social media.
FanCranked.com does all the heavy lifting by hand picking and curating only the best Facebook Page posts from around the world. Through its team of dedicated tastemakers, FanCranked discovers the best out of a quarter million posts weekly.
"We have a really strong team whose main focus is to find the top Facebook posts," says founder Lyon Lee. "As a regular Facebook user, I wanted to find the most engaging posts on Facebook, but had no simple way of finding them. With FanCranked.com, we can now help expose great content that Facebook Pages are producing. In doing so, we believe we're helping users by allowing them to discover great content and rewarding the best Facebook Page owners for their great work."
Regularly updated categories include Fashion & Beauty, Food & Beverage, Music, Celebrities, Sports, Travel, Automotive, and FanCranked's most interesting category - "Get Lucky". "We discovered several posts that did not fit into any traditional category, so we created Get Lucky because every so often, we would find such a post that made us feel like we... you know," smiles Lee. "Our test results showed us that people really enjoy this category."
From FanCranked, users can directly go to the post on the Facebook Page as well as share their favorite posts to their personal Facebook timelines.
Personal Facebook User posts, status updates, and pictures are excluded from FanCranked.
To discover the best Facebook Posts from around the world, go to http://fancranked.com.
About FanCrank Inc.
FanCrank was founded in 2011 to develop innovative applications and platforms that leverage Social Media.