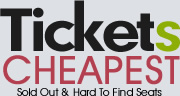 While the best seats and most popular tour dates may sell out fast, people can always find a wide variety of seats including the best sections at Tickets-Cheapest.com and cheaper prices compared to other resale sites, including lower than Stubhub.
Denver, CO (PRWEB) June 22, 2013
Colorado travelers and Denver residents have recently gained an unprecedented opportunity to enjoy the many shows that make the rounds in their area without having to make difficult choices between their favorites or juggle difficult scheduling conflicts. The Financial Firebird Corporation recently announced that Tickets-Cheapest.com and its sibling websites are offering special prices on Luke Bryan tickets and booking information for other popular shows and events.
In addition to being able to find show tickets for popular venues like Fiddlers Green Amphitheatre, where Luke Bryan will play, Colorado residents stand to gain more than just the chance to book shows before they get sold out. The ability to purchase tickets months in advance makes it much more likely that music lovers will save money that they can use to see other shows in the area. Denver and other Colorado population centers have huge arts cultures, so there are usually a number of different events running concurrently. The Tickets-Cheapest.com team hopes to make more of these accessible to casual consumers and die hard fans alike.
In addition to snagging Luke Bryan Denver tickets for the upcoming show on September 21, fans can use the site to take in a host of other popular acts, like Bruno Mars and Ellie Goulding or Fun and Tegan & Sara in August. Country fans will be glad to check out Keith Urban, Little Big Town and Dustin Lynch August 30 after seeing the Kenny Chesney tour at Sports Authority Field at Mile High in Denver on July 20. Other widely anticipated summer shows include The Avett Brothers, Portugal the Man and Old Crow Medicine Show on July 5 and 6, and John Mayer and Phillip Phillips on July 16 and 17.
Tickets for all Denver concerts as well as exact tour dates and performance schedules may be found at Tickets-Cheapest.com online. When looking to attend a sold out show or in need of last minute tickets or premium seats visit the site for the best way to buy Denver area concert, theater and pro sports tickets. While the best seats and most popular tour dates may sell out fast, people can always find every show with a wide variety of seats including the best sections at Tickets-Cheapest.com and compared to other resale sites their ticket prices are cheaper, including lower than Stubhub.
It's worth noting that Tickets-Cheapest.com isn't just making tickets available for imminent events. For instance, Eagles tour 2013 tickets for the Pepsi Center in Denver October 5 and other Pepsi Center Denver tickets for fall and winter dates are set to go on sale soon. The idea behind this move is to make it easier for fans to successfully get to shows that they might otherwise have to miss because of scheduling conflicts.
Most of all, the Financial Firebird Corporation strives to make the overall event experience easier using the many sibling sites that accompany Tickets-Cheapest.com. To this end, the firm announced that they're offering tickets for shows like Book Of Mormon Denver, sporting event tickets and other kinds of event information. The site managers, most of whom are music and event lovers themselves, know that people are often willing to travel to see their favorite events, and they've instituted a standard company policy of helping fans find hotels close to the Denver airport as well.
About Financial Firebird and Tickets Cheapest
The site to buy Cheap Tickets online and its sister sites, including the site to buy a ticket for Broadway NY or Broadway touring tickets, including Washington DC Broadway tour dates featuring Book Of Mormon Washington DC, all geared for the consumers looking for low prices, are affiliated with the Financial Firebird Corporation Travel Group, and stand among the top sites sought by travelers and people who enjoy concerts, pro sports and theater performances. Financial Firebird Corporation, established in 2000 and a proud BBB member, provides unbiased consumer information particularly involving personal unsecured debt or mortgages, mortgage lenders, software and marketing services. These sites for consumers to buy tickets online operate in the resale market and maintain no relationship with the venues or performers. The resale ticket market allows consumers access to popular events once the box office has sold out or to buy premium seats when the venue no longer offers any inventory. Within the group of these secondary market ticket services the Financial Firebird owned ticket sites offer lower prices than competitors. Find the site at Tickets-Cheapest.com.