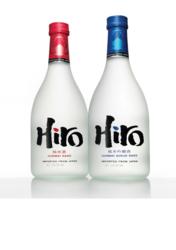 We created Hiro 300ml to meet the demands of today's discerning consumers, who were looking for additional options when enjoying Hiro Sake. - Carlos Arana, Hiro CEO and Co-Founder, Co-Producer of Pippin
New York, NY (PRWEB) June 24, 2013
To create even more ways to enjoy its award-winning drink, Hiro®, the super-premium sake from Japan, has introduced the new Hiro Sake 300ml size to the US marketplace, it was announced today. The new smaller bottle Hiro Sake was officially unveiled Sunday evening, June 9, at the star-studded Hiro-hosted Tony® Awards After-Party in New York City to celebrate Pippin the musical that won four 2013 Tony Awards.
"We created Hiro 300ml to meet the demands of today's discerning consumers, who were looking for additional options when enjoying Hiro Sake both at home and at their favorite bars and restaurants," noted Carlos Arana, co-founder and CEO of Hiro and also co-producer of Pippin. "The response from consumers and customers alike has been nothing but positive and provides even more opportunities to enjoy Hiro," Arana added.
Hiro 300ml size is available in Junmai (Hiro Red) sake and Junmai Ginjo (Hiro Blue) sake, at a suggested retail price of $17.99 for Hiro Red and $21.99 for Hiro Blue. Hiro 300ml will be available in the best restaurants, bars and retailers in MA, CT, NY, NJ, MD, VA, DC, FL and on online retailers like http://www.DrinkUpNY.com and http://www.RosettaWines.com.
The magic of Hiro Sake lies in its versatility. Hiro can be used in an infinite number of cocktails, usually standing in for vodka, rum or gin and with only half the alcohol of traditional spirits. Hiro Sake is ideal for those looking for a 'lighter' cocktail option, since Hiro Sake is only 43 calories per ounce, additive- and preservative-free, gluten-free and sulfite-free (less headaches), histamine- and allergen-free (no allergic reactions), with 1/3 the acidity of wine (making it easier on the stomach).
Whether served chilled, warm or on the rocks, Hiro's incomparable flavor can be enjoyed in an array of refreshing cocktails like the Hiro Spritzo, perfect for summer imbibing:
HIRO SPRITZO
1 oz. prosecco
1 oz. Hiro Sake
1 oz. Aperol or Campari
1½ oz. soda water
Combine all ingredients over ice and serve in a Collins glass or a large wine glass.
Hiro's signature cocktail recipes can be found at http://www.hirosake.com. And on the Hiro Sake Facebook page
Hiro's sake brands have received top awards at many distinguished wine and spirits competitions including being awarded The Chairman's Trophy, the highest accolade, at the 2013 Ultimate Wine Challenge for both Hiro Red in the Junmai category and Hiro Blue in the Junmai Ginjo category. Additional prestigious awards have been won at the San Francisco International Wine Competition, the New York World Wine & Spirits Competition, the Spirits International Prestige (SIP) Awards and Wine and Spirits Wholesalers of America (WSWA) Awards.
ABOUT HIRO SAKE
Offered in both Junmai (Hiro Red) sake and Junmai Ginjo (Hiro Blue) sake, Hiro is a premium, handcrafted Japanese sake brewed in the Niigata prefecture, the premier sake-producing region of Japan. Hiro's Toji (Sake Master) was awarded first prize in a 2011 Japanese national sake competition, regarded as one of the most important sake competitions in the world. Additional information about the company can be found at http://www.hirosake.com, as well as on Hiro's Facebook page and on Twitter @hiro_sake.