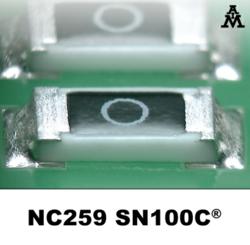 (PRWEB) June 21, 2013
AIM Solder, a global leader in the manufacture of solder assembly materials for the electronics industry, will highlight their new NC259 Solder Paste in Booth #27 at the SMTA Upper Midwest Expo, scheduled to take place on the 27th of June, 2013 at the Embassy Suites in Bloomington, Minnesota.
This low-cost, lead-free and halogen-free solder paste offers the performance of tin/lead and high-silver, lead-free solder pastes minimizing post-process residue and graping. Proven to mitigate head-in-pillow defects, NC259 reduces rework and rejected board costs allowing manufacturers to attain the SMT soldering results they require while paying significantly less per gram than with traditional lead-free solder pastes. NC259 is formulated to provide one of the longest pause-to-print windows in the industry, resulting in less solder waste, fewer restart costs and improved overall quality of prints.
Additionally, AIM will highlight its liquid fluxes, tin/lead and lead-free alloys, including SN100C. To discover all of AIM's products, including lead-free and halogen-free solder, visit the company in booth #27 at the SMTA Upper Midwest Expo.
About AIM
Headquartered in Montreal, Canada, AIM Solder is a leading global manufacturer of assembly materials with manufacturing, distribution and support facilities located throughout the world. AIM produces advanced solder products such as solder paste, liquid flux, cored wire, bar solder, epoxies, lead-free and halogen-free solder products, preforms, and specialty alloys such as indium and gold for a broad range of industries. A recipient of many prestigious SMT industry awards, AIM is strongly committed to innovative research and development of product and process improvement as well as providing customers with superior technical support, service and training.
For more information about AIM, visit http://www.aimsolder.com.